UBC IN CANADIAN POSTAGE STAMPS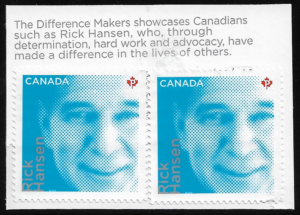 Rick Hansen: UBC graduate who represented Canada at 1982 Pan Am Games and '84 ParaOlympics. Winner of numerous marathons. 1983 co winner of Canada's outstanding male athlete award. Has raised both awareness and funds for disabled people ever since the Man in Motion world tour that he and his team launched in 1985. UBC Sports Hall of Fame inductee and recipient of UBC's Alumni Award of Distinction.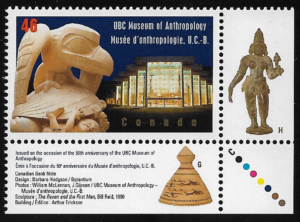 1999 stamp featuring Bill Reid sculpture recognizing 50 years of the UBC Museum of Anthropology. The museum was officially founded in 1947 but its beginnings go back to 1927 when a collection of First Nations artefacts were displayed in the basement of UBC's Main Library. In 1976 the present building, designed by Arthur Erickson, was opened with Michael Ames as director. MOA's focus is on First Nations of the northwest Pacific Coast.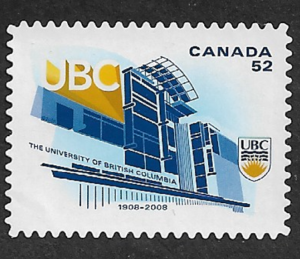 Stamp depicting the Koerner Library, honouring the one hundredth anniversary, 1908 – 2008, of the charter establishing the University of British Columbia.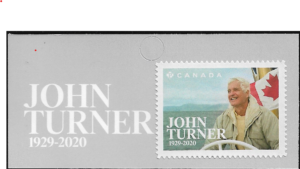 John Turner: 1949 UBC graduate and Rhodes Scholar, and an outstanding UBC sprint star 1947-49. Liberal member of Parliament; served as Minister of Consumer and Corporate Affairs, Minister of Justice, Minister of Finance, Liberal leader and Prime Minister. UBC Alumni Award of Distinction recipient and UBC Sports Hall of Fame inductee.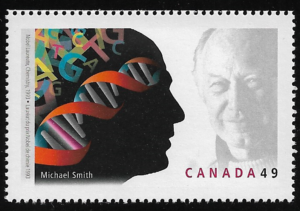 Michael Smith: Appointed Professor of Biochemistry in UBC Faculty of Medicine in 1966. In 1993 became BC's first Nobel Laureate winning the Nobel Prize for his work in understanding how genes work. Noted for his efforts in advancing BC research, he received the Order of Canada, and was recognized through the naming of the Michael Smith Laboratories and the Michael Smith Awards at UBC. UBC Lifetime Achievement Award recipient in 1997.
Dr. Julio Montaner: UBC researcher who for over 30 years has led the fight against HIV/AIDS. His innovative drug therapies and treatment programs have transformed the disease from a death sentence into a long-term manageable condition. UBC Honorary Alumnus Award recipient in 2015.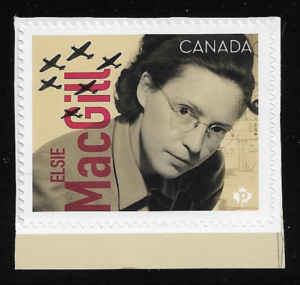 Elsie MacGill: Attended high school in Vancouver and two years at UBC before graduating from the Universities of Toronto and Michigan. The first woman in the world to hold a Master's degree in Aeronautical Engineering and to work as an aircraft designer. She guided the production of Canada's Hawker Hurricanes during the Second World War. Throughout, a driving force in the status of women movement in Canada. UBC Honorary Alumna Award recipient in 1975.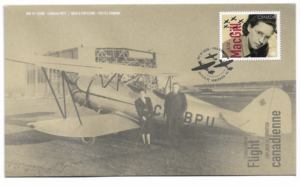 First-day cover of the Elsie MacGill stamp.
Updated 27 October 2021