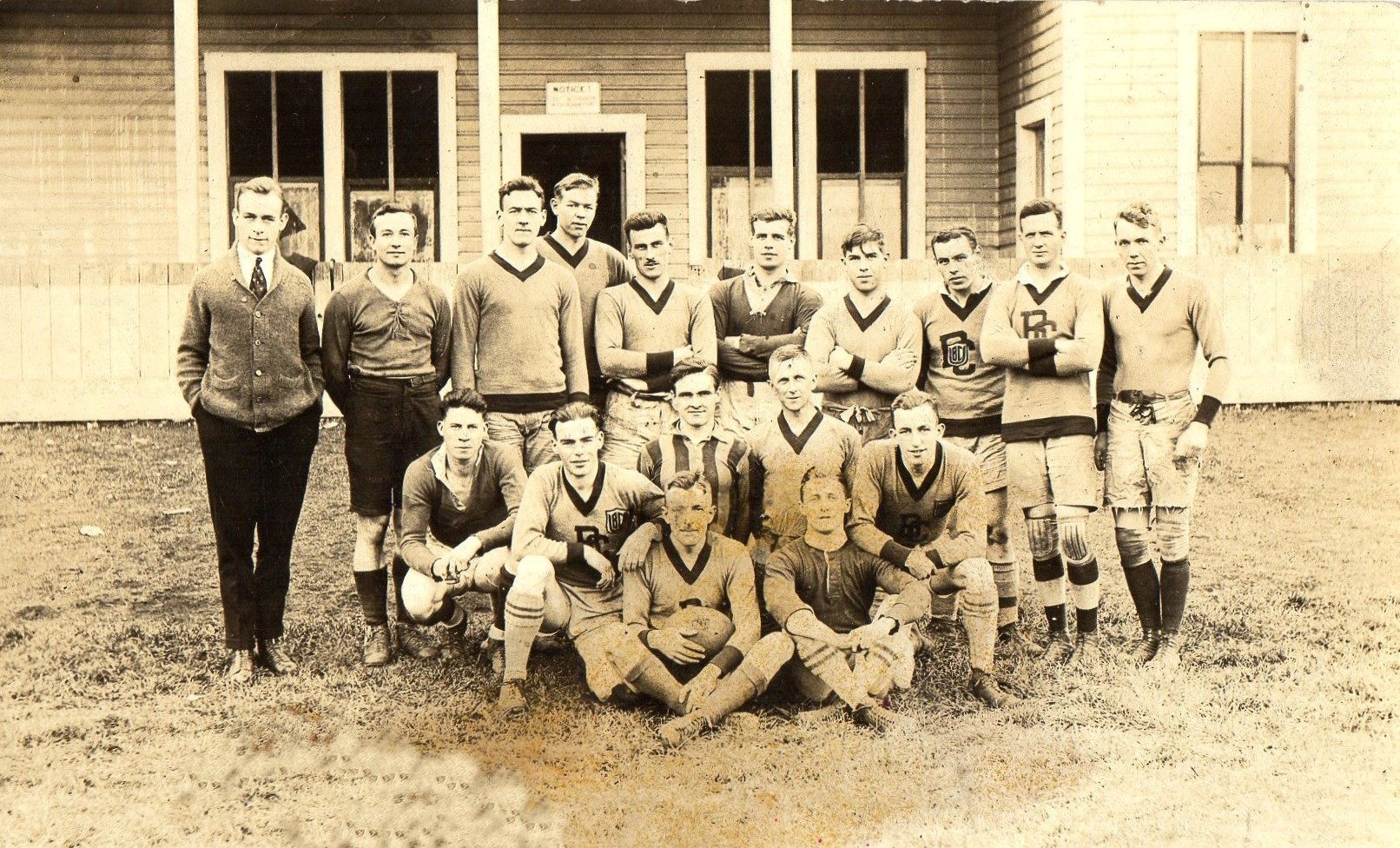 Trading, at least to me, is an essential part of collecting, whether in postcards, baseball cards or any of the many collectibles with which we might find ourselves engaged. There is a feeling of accomplishment when both parties walk away happy. So it was in one of these mutually satisfactory trading sessions with a fellow postcard collector that a card became available which both surprised and delighted me.
A quick inspection of this card revealed that it was a photograph of a rugby team; not just any team, but rather a very special UBC rugby team. This happened to be the 1920/21 squad whose story I knew from my research at UBC – a story that could even be considered historic in the annals of the Point Grey university. As mentioned, I was surprised and delighted, surprised in that I did not know such a card existed and delighted in that through a trade I was able to acquire this rare piece and the cachet that went with it.
The team on the card was photographed at a time when the UBC campus was situated not at Point Grey but in Fairview near VGH, the 12th and Cambie area. Postwar UBC was still in its formative stages, only in its sixth year of operation with an enrollment of approximately 1500 students. Yet it had a fairly robust sports program which featured an accomplished rugby team captained and coached by Art Lord (standing at left), a student who had returned from service in World War 1 and who would later become a revered judge.
The previous year, UBC rugby had commenced what would be a long-standing rivalry with Stanford University, the pride of US west coast rugby. This would be a bit of a David and Goliath situation in that Stanford was far larger, older, and more established than its young cousin to the north. To make it even more daunting, in this year of 1920, Stanford was particularly formidable – defending US rugby champions with nine players selected to play for the US Olympic rugby team, a team that won gold!
So, December 25th 1920, Christmas Day no less, UBC, the provincial champion, was set to host the Cardinals of Stanford at Stanley Park's Brockton Oval. The stands were packed, Blue & Gold everywhere, ribbons and streamers flowing in the breeze. "Never before has so much interest and attention been aroused in the student body . . . " gushed campus media. The betting, however, was heavily in favour of the Californians.
The UBC Totem annual would report that what was about to happen was not just because this UBC rugby team stepped on to the field prepared to play the game of their lives; rather, it was "the backing and intense desire to win burning in the breast " of every one of the 800 students filling Brockton Oval. "We couldn't lose, glancing toward the packed stands resplendent in the clearly beloved Blue & Gold . . . a strange thrill of power and surge of wild joy . . . UBC could not go down to defeat that day." In fact UBC outplayed its heavier opponents and outscored them 12 – 0 before the record rugby crowd – frenzied fans witnessing what many thought to be impossible, who at game's end erupted. "With that last shrill blast the Varsity rooters went crazy and swarmed out over the field . . . round the track went the joyous, madly happy mob of students. Staid professors vied with the newest freshmen in wild outburst," on this crisp Christmas Day.
Apparently that intangible something called spirit materialized for UBC, an emotion created by the team captured on this postcard. Even the Vancouver Sun was caught up in this magic moment, stating " . . . hundreds of fans and UBC students swarmed upon the field lifting the players high above the throng, staged serpentine parades and danced and sang to a whisper. It was absolutely wonderful."
In these early days of UBC the victory gave the school something to be proud of – the start of a tradition. It no longer doubted itself. In those two 45 minute halves the students learned about morale, esprit de corps and college spirit, qualities without which a university exists in name alone.
"As the December evening closed in," continued the Totem, "the happy crowd wended its way homeward, secure in the knowledge of a University which had won a game, won a spirit and found herself."
And thanks to a little trading with a fellow collector, I am grateful not only for this prized addition to my collection but for the joy that goes with relating the story behind the image.