The primary goal of the Legacy Project has always been to capture the memories and experiences of the faculty, staff, and alumni members of the UBC community through personal interviews uploaded in the UBC Archives at https://open.library.ubc.ca/collections/ubcavfrc.  Most of these recordings are also available through the Legacy website at https://legacies.alumni.ubc.ca/new-video-gallery/.  We have also begun to build a collection of books about UBC, or by UBC authors, and a preliminary listing is available at https://legacies.alumni.ubc.ca/bibliography/.
Over the past several years the project has begun to acquire objects that speak to a donor's involvement in sports, or clubs, or other forms of non-curricular activity. Some of these objects are presented in the photographs that follow.
Click on a picture to get a larger image.
1.  Pennant from the Great Trek
2. An invitation to the first UBC graduation ceremony.
3.  Record of Service in World War I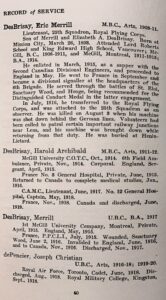 4.  Blue and gold beanie
5.  Wedgewood Plate
6.  Nathan Nemetz's membership card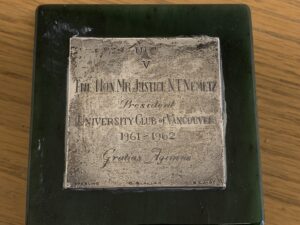 7.  Sportswear
8.  AMS Award
9. Painting of UBC
10. UBC beer?
11.  Honorary Degree Hood