By Carla J. Banfield, Associate Director, Gift & Estate Planning, Development & Alumni Engagement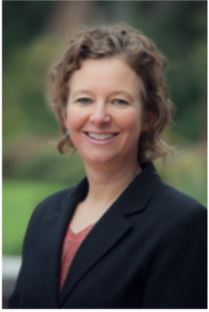 William Orson Banfield BSc '22, MASc '23      Carla Banfield, BA '89
Below Carla Banfield offers her recollections of her grandfather William Orson Banfield, who took one of the best-known photographs in UBC's history, a picture of the students gathered in formation on the Point Grey Campus in October 1922 at the end of the Great Trek.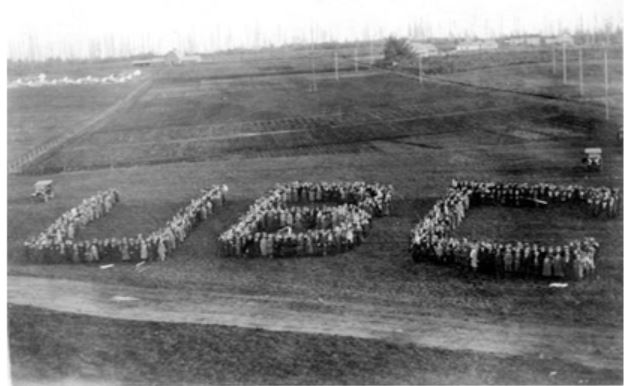 UBC Archives UBC 1.1/16250
To this day, I remember the big bear hugs my grandpa would give me and my three sisters when we came in the door. William Orson Banfield, affectionately nicknamed Wobie (coined from his initials, W.O.B.), was a tall man with a great big grin, and a camera around his neck. I don't know when my grandfather got his first camera or when he started taking photos but I do know he took a lot of them! – boxes and boxes. I suspect for my grandpa, photography served a practical purpose, to record a moment in time, an image of friends, memories of family.
After I joined UBC's Development Office, I found some of Orson's early campus photos in the Library archives, which prompted me to learn more about his time at UBC. W. Orson Banfield enrolled as a student at UBC (Fairview campus) in 1915, before heading off to war. He returned to UBC in 1919, attending classes at the Fairview buildings on the grounds of the Vancouver Hospital, temporarily erected there thanks to the action of the Vancouver General Hospital Board (which his father, J. J. Banfield, chaired). Orson joined Alpha Iota fraternity and served as treasurer of the Students' Council while earning a Bachelor of Science in 1922 and a Master of Applied Science in Chemistry in 1923. His thesis, "The viscosity of pure hydrogen bromide and solutions of acetic acid and ethyl alcohol in hydrogen bromide," can be viewed on-line, one of UBC's "First 100 Theses."
It's fun to think that four generations of the Banfield family have connections to UBC, connections that have prompted me to donate to UBC's Alumni Centre. My great grandfather, John Joseph Banfield (1854-1934), commonly known as J.J. Banfield, helped envision the UBC campus at Pt. Grey, and his son, W. Orson Banfield (1897-1983), was one of the Great Trekkers. In turn, Orson's son and daughter, John A. Banfield (1933-2013) and C. Jane Banfield (1930-2016) were both UBC grads, as was their daughter—my mom—Cheryl Banfield BA'60 (née White).  And finally there's me, Carla J. Banfield, BA '89 and my sister, Andrea Haworth (née Banfield), BA '93, BSc '98 (Occupational Therapy), both proud UBC grads!
I am grateful to the UBC Library and the Vancouver City Archives for retaining Orson's photos and digitizing these historical "moment in time" images.
Background
William Orson Banfield (b. May 17, 1897) enrolled as a student at UBC (Fairview campus) in 1915, then enlisted in Vancouver, in October 1916, and at the age of 19 joined the 68th Battery Artillery, 11th unit.
In 1918 he was sent to England for training in Bordon, Hampshire with the Canadian Artillery, and spent his time in France with the Canadian Divisional Ammunition Column CDAC at railheads where divisional ammunition was stored, before he was shipped to the front and drove mule trains of ammunition. As an enlisted soldier Orson was paid $20 per month and at the end of 2 years had saved $480. A month after his return to Canada in January 1919 via the CPR's Empress of Asia, he received his discharge and returned to UBC. Following graduation, Orson worked briefly as a chemical engineer before joining his father's real-estate and insurance business. In 1934, Orson formed his own firm, Norwich Agencies, Limited, and sold the firm in 1956. Banfield was active in civic affairs: he was elected president of the Vancouver branch of the Red Cross in 1946, president of the Vancouver Rotary Club in 1947, president of the Civic Non Partisan Association in 1956, and Chairman of the Board of Vancouver General Hospital in 1957. In 1961, he was elected to Vancouver City Council as an alderman.
Source docs:
UBC Library fonds
https://www.library.ubc.ca/archives/u_arch/banfield.pdf
1965 Audio Interview with W. Orson Banfield, at UBC's 50th Anniversary
https://open.library.ubc.ca/collections/archivesav/items/1.0135473
1965 Audio Interview with Jane Banfield, at UBC's 50th Anniversary
https://open.library.ubc.ca/collections/archivesav/items/1.0135472
UBC photos, City Archives
http://searcharchives.vancouver.ca/senior-four-u-b-c-rowing-team
http://searcharchives.vancouver.ca/student-campaign-u-b-c-the-pilgrimage-some-of-them-lefty-nelson-and-s-phillips
UBC photos, UBC Archives
The Pilgrimage (later known as the Great Trek), October 28, 1922
UBC spelled out: https://open.library.ubc.ca/collections/arphotos/items/1.0155285
Students occupying unfinished Science Building
https://open.library.ubc.ca/collections/arphotos/items/1.0155284
https://open.library.ubc.ca/collections/arphotos/items/1.0155282
1923 Grad class photo
https://open.library.u bc.ca/collections/arphotos/items/1.0163174
1923 MASc thesis
https://open.library.ubc.ca/cIRcle/collections/ubctheses/831/items/1.0059586