"Great universities are not created out of construction materials and policies; they are created by people for people." 
After one hundred years, UBC today is one of the finest universities in the world thanks to the hard work, passion, and inspiration of tens of thousands of faculty, staff, and alumni.   In this section of the Legacy website, we hope to capture the stories of some of those people: memories, portraits, anecdotes, and descriptions of events and experiences that, taken together, make up the history of our university.
We welcome your written recollections and reminiscences for inclusion here.  Our hope is that members from every area of UBC will participate, whether to recall a favourite class or professor, to describe a sports triumph (or frustrating loss!), to look back on club activities, remember a favourite hangout, relive an escapade while you were in residence…anything that speaks of your interaction with UBC and its impact on your life then and subsequently.
Details about submitting material can be found here.
---
---
'50 Years of UBC Fun: as a student, math researcher and working with schools' by George Bluman
TALK FOR SENIOR SCHOLARS' SERIES
This is the text of a talk given by George Bluman, Professor of Mathematics, to the Association of Professors Emeriti at Green College on October 13, 2015.  The talk was titled, "50 Years of UBC Fun: as a student, math researcher and working with schools."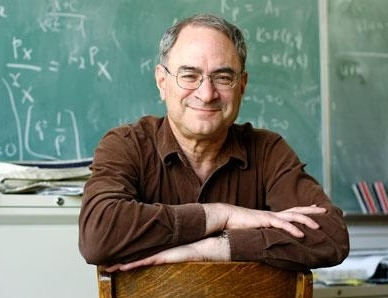 My time at UBC has spanned over 50 years, including four years as an undergraduate student from 1960-64 and 46 years as a regular faculty member (1968-2014).
I was born in Vancouver in 1943, first residing in Kitsilano, followed by five years on Seymour Street (across from the infamous Penthouse).  I first went to school at Dawson Annex on Burrard Street.  The rest of my schooling was in North Burnaby, graduating from Burnaby North High School in 1960.  Apparently, my school had two characteristics: the smallest percentage of students from metro Vancouver attending university and the largest number per capita of future criminals.
When I arrived at UBC in 1960, the Arts building had just been renamed the Math Building. In the following year, the Agriculture Building became the Math Annex—oddly enough it was my father's home building as a UBC Agriculture student after the war.
In my first year as an Arts student, my favourite courses were with Basil Dunnell in Chemistry, Jacob Zilber in English,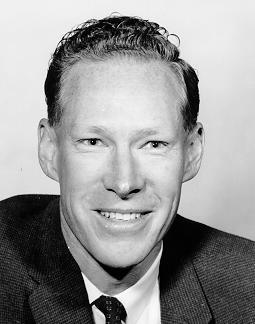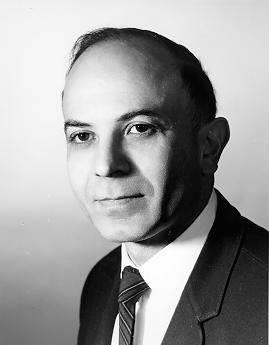 and my instructor in German (who wore an academic gown to each class).  I was thinking of following in my father's footsteps to study Chemistry. Basil Dunnell persuaded me to pursue an honours degree in Physics and Mathematics.  My intention was to pursue a career in meteorology which had been a passion of mine since elementary school.
During the summer after 3rd year, I got a position with the chief meteorologist for BC at the Vancouver airport along with fellow UBC Math and Physics student Dan McLeod—the founder, editor and sole owner of the Georgia Straight.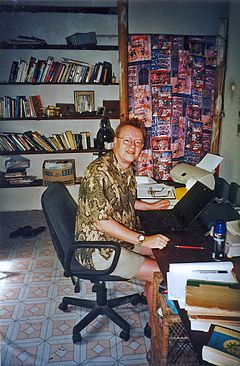 After a month at the airport, I received a grant from the Canadian Mathematics Congress to work under the supervision of the wise UBC algebraist David Murdoch.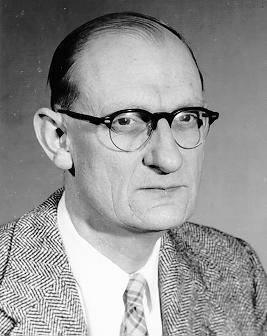 The chief meteorologist, a very kind man, recommended my accepting this award and so I did. I studied various books on my own (e.g., Jacobson) and audited a graduate course in Algebra given by Thompson.  I fell in love with a subject called Galois theory—I was amazed how symmetry could be described mathematically and be useful for solving longstanding problems: e.g, the impossibility of trisecting an angle by ruler and compass, the impossibility to have a formula to solve any polynomial equation of degree greater than five.
In 1964 I was a member of the first Faculty of Science graduating class.  Initially. I accepted a position with the Canadian Meteorological Service with full pay while going to grad school in meteorology at McGill or Toronto.
I had also applied for grad school in applied math at Caltech, MIT and Stanford—I refused to pay application fees but was still accepted by all three schools.
Then, to my surprise. I won a Woodrow Wilson Fellowship.  So I changed my mind and chose to go to Caltech since it was the only school offering courses on symmetries in its applied math program.
It was an amazing time to be in California and especially at Caltech.  While there I got involved with many outside activities.  I was VP for the international students' association.  It was the height of student protest about the Viet Nam war. I got involved in the McCarthy vs Kennedy democratic presidential primary in California in June 1968—leading a group of grad students, postdocs and faculty to canvass in the ghetto area of Pasadena for McCarthy, including the street where Sirhan Sirhan lived (the assassin of Robert Kennedy).  I even had a mathematical experience.  At one household, when I came to the door I was asked to add up the numbers from 1 to 100.  When I gave an immediate answer, the householder said that I defeated his purpose about how politicians think. He then invited me in to have a game of chess.
After spending one year as a postdoc at Caltech, I joined the UBC Math Department in 1968 (apparently thanks to the Physics Head George Volkoff convincing Ralph James to hire me—in those days Heads of Department did the hiring).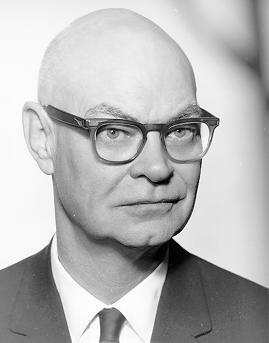 I was temporarily assigned an office, Math Annex 1112, but it became my permanent office due to Canada's marijuana laws at the time—the permanent faculty occupant, who was an American, was deported for marijuana possession when searched at Vancouver airport while on sabbatical leave.
Because of the Viet Nam war, UBC Math attracted better than usual grad students.  In 1968, two brilliant grad students arrived from Chicago and Caltech. The Caltech student, Freddy Ferdman, was an avowed Marxist-Leninist.  From 1968-70 the Marxists-Leninists would regularly shout down speakers.  Freddy would pass out his literature during the supper hour at Place Vanier.  The students complained about this and asked him to stop but Freddy refused.  The local RCMP came over to encourage him to cease with this activity but apparently there was a scuffle and Freddy was arrested.  His lawyer was succeeding to get him acquitted as his trial took place, but Freddy wanted to be a martyr so fired his lawyer and shouted out in court against the Canadian justice system.  He was then found guilty for contempt of court.  This led to grounds for deportation.
After failing on court appeals, his final appeal was to the Minister of Justice, Jean Chretien in Ottawa.  Many UBC faculty and students signed petitions on his behalf.  The day before he was to see Chretien, I was watching the CBC National news and the lead story was about Freddy Ferdman.  He had done something original in the House of Commons—from the gallery, he had thrown petitions on the floor and started shouting.  The next day he was escorted out of the country.
In my first quarter at Caltech, all applied math grad students were immersed in a seminar course on variational methods run by the chair, Gerald Whitham.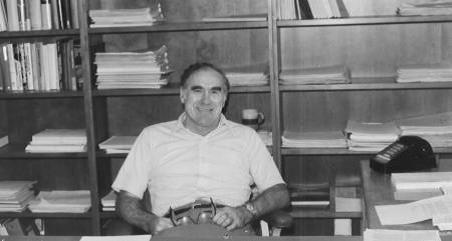 I ended up giving 4.5 hours of lectures on the work of Emmy Noether on the use of symmetries to find conservation laws for variational equations. (Emmy Noether was the most significant female mathematician of the 20th century—she was recently featured with Albert Einstein in the Globe and Mail centerfold).

This started me on my research path in symmetries and differential equations.  I did not like the restrictions of Noether's theorem since it involved artificialities—the construction of a Lagrangian and the restriction to differential equations that are variational (0% of all possibilities).  I started fooling around and made some progress by trying a more direct approach. This became a 30 year project.
My thesis work involved my own problems that I got two faculty interested in—Julian Cole and Paco Lagerstrom, both well-known applied mathematicians and aeronautical engineers.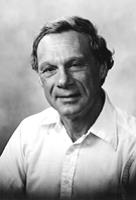 My primary work was on how to use symmetry methods to solve boundary value problems for partial differential equations using ideas first developed by the Norwegian mathematician Sophus Lie in the late 19th century as well as dimensional analysis used in modelling as developed by the American engineering scientist Buckingham around 1915.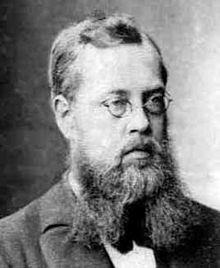 In my 1967 thesis I developed a now famous method to find solutions for nonlinear partial differential equations which we called the nonclassical method that extended Lie's classical method.  Before I had completed my thesis, I asked visitors to Caltech whether they had seen anything related to what I had done: I was sure that someone must have discovered what I had found.
Well, a visitor appeared from Oregon State, Hoffman, who had this amazing set of filing cards listing literature of potential interest to him; through this I learned of the work of a Soviet mathematician at Novosibirsk, Ovsiannikov, in particular a 1959 paper he had written in Russian in Doklady that was in the Caltech library.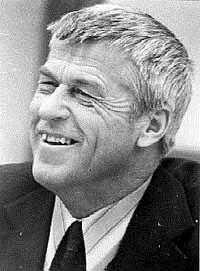 After reading this paper I noticed that he had made no progress beyond what Sophus Lie had done.  But I also learned about Ovsiannikov's 1962 Russian book and a related 1962 paper in German, one of whose authors, Muller, was the director of the Max Planck Institute for Fluid Dynamics in Gottingen.  But this excellent paper did not overlap what I had planned for my thesis but did play a role in work I did 20 years later.  Soon thereafter Muller visited Caltech.
Early in 1967, my supervisor Julian Cole visited Moscow—he obtained a copy of Ovsiannikov's book which I translated over a four-week period. It turned out that Ovsiannikov had done minimally what was to be in my thesis.  In fact he made remarks in his book which essentially claimed that a major part of what I had done was not possible.  So my undergraduate courses in German and Russian turned out to be essential for my research.
My thesis work led to a first paper published in 1969 with Julian Cole called the General Similarity Solution of the Heat Equation—it became well-cited only 20 years later and today ranks as the world's 24th most cited mathematics paper for 1969.
I have continued to work in the area of symmetries and differential equations ever since.
A system of ordinary differential equations is a compact description of a family of curves whereas a system of partial differential equations is a compact description of a family of surfaces.
The aim is to find solutions, properties of solutions, or more particularly solutions satisfying given data.
This leads one to develop systematic procedures to seek, use and calculate symmetries/conservation laws without knowledge of the solutions of the system.
A symmetry of a differential equation moves each solution of the equation to a solution of the same equation, i.e, it leaves invariant its family of curves (surfaces). One is interested in symmetries in terms of a continuous parameter (e.g., rotation about an axis by an arbitrary angle or an arbitrary scaling) that act as continuous movements of solution curves to solution curves.  Solutions that don't deform to other solutions are called invariant or similarity solutions.
Every differential equation arising in applied problems has an uncountable infinity of continuous symmetries.
In the physical sense, a conservation law of a differential equation is a quantity that, for given data, does not change in time (e.g., energy, momentum, angular momentum).
The main problems in symmetries and differential equations involve the following:
*How to find systematically symmetries/conservation laws
*How to use systematically symmetries/conservation laws
*How to calculate efficiently symmetries/conservation laws and their uses
Modern day computers and concomitant software development have made it possible to perform effectively many of the involved tedious calculations and to make the subject amenable to a wider audience, especially users in engineering, various sciences and economics.
When I was at Caltech, I got to know quite well faculty and students in all departments.  This repeatedly was of great value in my research.  One of the Caltech professors of theoretical chemistry, Vince McCoy, was familiar with my work.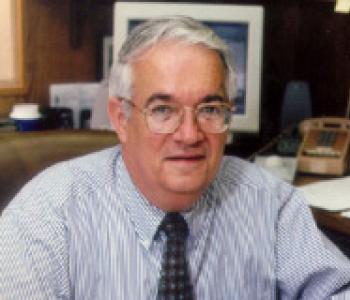 He came to UBC in 1972 for a conference.  When he learned about the proposed talk of a mutual friend in the Physics Department at the University of the Pacific, Carl Wulfman, he told Carl to see me.
He immediately realized that his work was obsolete and started afresh with a Japanese graduate student Sukeyuki Kumei. I was the external examiner for Kumei's Master's thesis.
In the early 70s, Julian Cole and I worked on a manuscript for a book on Similarity Methods for Differential Equations. We had signed a contract with Harper and Row for this to be the first book in a new applied mathematics series. Then Harper and Row reneged on the series but would still honour our contract.  Then we learned that the world's highest quality publisher in Mathematics, Springer-Verlag, had just started a new series in applied mathematics edited by Fritz John, Joe LaSalle, Gerald Whitham and Lawrence Sirovich.  They welcomed our manuscript and so we cancelled our earlier contract and in 1974 our book became the 13th volume in this new series—it ranks 89th in citations for all math books published in 1974—over 1100 citations in total.
In the late 1970s, Sukeyuki Kumei arrived from Japan and started his PhD study at UBC under my supervision. This led to our book Symmetries and Differential Equations, vol 81 of the Springer Applied Math series—it is the 16th most cited math book for 1989 with over 3000 citations to-date. A Chinese edition was published in 1991.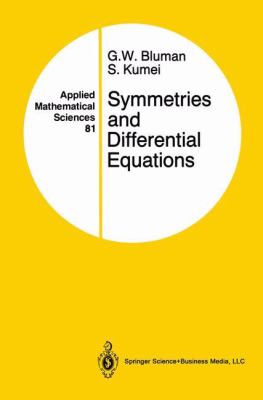 In the 1990s, I started a long collaboration with then PDF Stephen Anco, who originally came to UBC as a Post-doc supervised by Bill Unruh in Physics.
Together we finished my longstanding project on how to find systematically the conservation laws of any differential equation system.  Our result was first announced in a 1997 Physical Review Letters paper.
This led to our book Symmetry and Integration methods for Differential Equations, vol 154 in the Springer Applied Math series—it is the 101st most cited math book for 2002 with over 600 citations to-date. A Chinese edition in English was published in 2004 and in Chinese in 2009.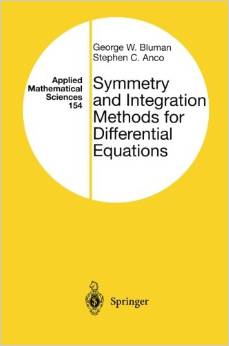 About 2004, I began a long collaboration with then PDF Alexei Cheviakov, originally from Moscow with an emphasis on how to extend my earlier work on how to find systematically symmetries of partial differential equations that were not local (those due to Lie were local).

This eventually led to the book with Cheviakov and Anco, Applications of Symmetry Methods to Partial Differential Equations, vol 168 in the Springer Applied Math series—it is the 50th most cited math book for 2010 with over 250 citations to-date.  A Chinese edition was published this year.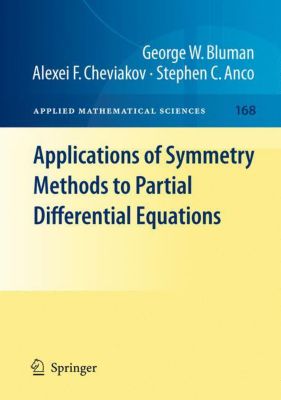 Overall I have supervised 9 PhD students, 11 Master's students (including one in the UBC school of journalism on Numbers in the News and two in Statistics) and 11 postdocs at UBC.  One of my MSc students, Richard Lee, worked as an analyst at TRIUMF for several years before becoming an MLA—he has been elected four times as part of the Liberal caucus.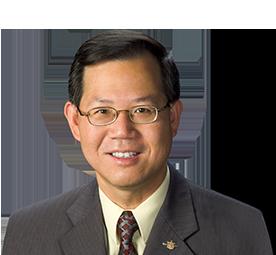 Most of my Canadian students have ended up in Canadian industry.  Richard Lee is one of two former UBC Math grad students sitting as MLAs—the other is the Green Party leader, Andrew Weaver. Incidentally, another distinguished UBC alumnus, Jimmy Sinclair, as a BC Rhodes Scholar finished an MSc in Math at Oxford, studied with Einstein at Princeton, and was offered a position by Buchanan in the UBC Math Dept.  Justin Trudeau is a proud grandson of Jimmy Sinclair.
Since coming to UBC, I have had a special interest in improving the mathematics experience and mathematics competency in BC schools.  This started with my own experience in North Burnaby where there was no public library and the library in my high school had no math books.  Moreover, residents of Burnaby could not take out books from the Vancouver Public Library located at Hastings and Main. My teachers promised to get math books for me but this never happened.  Unfortunately, my teachers had minimal knowledge of mathematics.
Since then, I have always thought it is essential to create maximal opportunities for students to learn, make students aware of opportunities and have materials readily accessible to students.
When I joined the UBC faculty, I was right away interested in working with local schools.  Starting in 1969, I got involved with the Saturday night Berg Science seminars for bright high school students—monthly seminars held in many North American cities. The seminar I gave at Eric Hamber school led to a brilliant Grade 10 student visiting me weekly at UBC to learn about differential equations.  Kevin would go home and build radios modeling the equations and becoming dazzled at the connections between theory and application.  Kevin, who was from a poor family, finished a Physics degree at Caltech with scholarships through my contacts there, later became a ballet dancer in Oakland followed by working at Microsoft in Seattle.
A remarkable visit in the early 70s was to Queen Elizabeth Elementary where I showed the children how to devise a game with dice with increasing sophistication to model the National Hockey League.  A few months later two boys from the school excitedly visited me at UBC with their pages and pages of research in which they were modeling the Canadian Football League.  Many years later one of these boys taught Math to my older son.
Our failure rates in calculus were exceedingly high, so studies were done to compare success rates at UBC by school.  The differences in the meaning of grades from schools were so great that it was decided to send school-by-school information to schools as well as school boards.  This was sure a wake-up call.  Schools were compared based on the percentage passing, percentage making first class marks and on how grades changed from school to UBC.  A series of news programs on BCTV exposed our results. This led to the President of the BCTF writing to the President of UBC to stop such studies and to the BCTF hounding me in their newsletter.
But schools that made changes saw dramatic improvement in their UBC results.
Then there were studies to account for factors leading to lack of success at UBC. At the time it was the fashion to compare performance of females and males. We found this was secondary to much more important factors: lack of a standardized provincial exam, semestering, using a textbook with challenging multistep problems.  We played the leading role in getting a new weak textbook eliminated, in the reintroduction of mandatory provincial exams in BC (starting with Mathematics) and in arresting the spread of semestrization of senior math courses.
A main concern was the elimination of serious geometry from the BC syllabus.  Our public TV exposure on this may have had an effect on the Ministry's decision to reinstate geometry.  Advice was sought on an appropriate choice of geometry textbook: we asked for a set of books under consideration. Nothing was heard from the Ministry—later I received a letter thanking us for our assistance.  I seemed to always get nonsensical response letters from BC's Superintendent of Instruction.  So I arranged to go to Victoria and meet with the Deputy Minister of Education and the Superintendent of Instruction.  The visit verified why I received such letters–the Superintendent was almost blind!
While chair of the CMS Education Committee, I visited U Waterloo in 1978 to look over the wonderful work done with their nationwide Junior Math Contest for grades 9-11, their local Gauss contests for Grades 7-8 and the Ontario Euclid Contest for Grade 12.  I made acquaintance with their talented and dedicated faculty concerned with schools.  This led to the introduction of the Gauss and Euclid Contests in BC and then the rest of Canada.  For three decades I had a long and fruitful relationship with the Canadian Mathematics Competition administered by Waterloo—I served two decades on the committee making up the problems for the Euclid Contest.
Soon thereafter a school workshop program was established first with BC high schools and later elementary schools with the financial support of Euclid Contest fees, Science World and the Ministry of Education.  At one time our department annually gave 200 problem-solving workshops to students in Grades 6-12 throughout BC at no cost to schools.  This involved 15 faculty and over 75 graduate and undergraduate students.  In turn this led to a 4th year undergraduate course called Mathematics Demonstrations in which students learn to develop interesting problems for our school workshops and present them in schools.
I have made over 200 school visits throughout BC and have had many delightful experiences in presenting workshops.
Once a student called me up from North Delta in the fall to present a workshop to his fellow Grade 12 students.  I mentioned that workshops had to be initiated by teachers. I heard nothing from the school until late February when Moninder Jheeta called me up again and asked why no workshop had yet been scheduled.  I reminded him of the need to have a teacher involved. Moninder then co-opted a teacher who said it was fine to go ahead with an after school workshop.  A few days later we arrived before 3pm and no teacher received us—in fact there was zero interest in the school office. So we went to look at the school trophy cases—only sports were featured with special pride for the school football team—there were large pictures of each player. When school finished I was expecting a disaster. No teacher showed up but soon who came bounding in to see me but Moninder.  Did he ever have a presence—he led us down a corridor and students scattered to get out of Moninder's way.  We were led to a spartan portable, the school math room which had no books, no pictures.  A teacher was present but he vanished asap. But to my surprise about 35 students came in under the baton of Moninder.  And what a group of students these were—they were the most inquisitive I had ever encountered.  Moninder studied honours math and physics at UBC, then went to grad school at Cambridge and MIT.  Today he lives in the Bay area and is the Director of Engineering, Domain Search for GoDaddy (note added: as of 2017, he is vice-president of GoDaddy).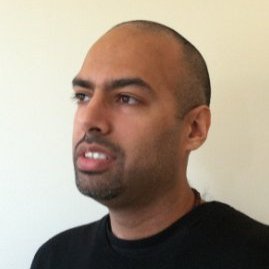 I learned a lot about BC through the workshops.  I had an amusing workshop in Dawson Creek.  It was amazing to see so many buffalo ranches, a major local industry at the time.  The students made fun of the best classmate in the workshop—it turned out that his father managed the largest buffalo ranch for an American company—he had chosen managing in Dawson Creek over managing in Hawaii.
At a workshop I gave to about 50 Grade 6-7 students at Kerrisdale elementary, one of the problems involved probability , the Edmonton Oilers and the Canucks.  A girl in the class got very excited—her father had played for both teams—one year he scored 46 goals with the Oilers with a fairly good linemate with number 99.
A workshop that heartened me took place in an elementary school in Mission.  The class was most unusual. All students were female and seemed to have emotional problems. One girl seemed to strengthen and gain confidence as the two hours proceeded, to the consternation of the classmates at her table who always tried to put her down.  After the workshop ended, I mentioned the unusual nature of this class to the principal and about this girl in particular.  He purposely had us do this workshop for girls from broken homes with severe emotional problems.  The girl in question had the most problems.  A year later I happened to meet this principal and asked what had happened to her.  He said that as a result of the workshop she had completely changed and now was very confident in her studies and doing very well in school.
Ten years ago, I initiated the UBC Math Circle for the brightest Math students in Lower Mainland schools.  Each week, from January to April, about 50 top invited high school students come to UBC for one evening after school to hear a lecture from an outstanding professor from Math, Stats, CpSc or Physics, followed by food and a problem solving session run by our top undergrads.
In the initial year 2006, it took a lot of work to put this together.  With lack of time availability, we did not continue in 2007.  But six students that attended the 2006 Circle approached me to take charge.  They said that they had gotten so much out of the Circle that they wanted to give back to future students.  These six students that I called the United Nations of Canada included students who had immigrated to Canada from North Viet Nam, Israel, Iran, and Taiwan.  This has allowed the program to be sustained.  The Physics Department followed up with a similar activity.
Over the years I have had many experiences with the media.  Once I was asked to appear live on the Knowledge Network's nightly news program. This was concerned with Mathematics, there was to be a debate and I was not told who were to be my fellow panelists.  The producer of the program repeatedly phoned me with questions about school math.  As the evening neared, I feared a set-up for math-bashing. Arriving at the station with notepad and pencil, I met my fellow debaters—a vocational teacher and the principal of the Langley Fine Arts school.  The producer said that our live portion of the program would begin with a film clip to respond to, and no notes or pencils were permitted.  I was not allowed to view the clip in advance. As our portion of the program was about to begin, the two cameramen yelled out—we hate math.  Then the clip rolled and it included two segments involving boys who wished to go to vocational school and both claimed that problems with math blocked them. The moderator turned to me with a most accusatory look.  Thankfully, I was familiar with the overall school math program and showed how both of these boys were incorrect in blaming the Math system for their difficulties.  The principal concurred.  The moderator became red in the face and I relaxed for the rest of the segment.
Sometimes my school and research experiences mixed.  In 1982, while on sabbatical in Nottingham, I was invited to Leeds by David Crighton since we were then working in a common research area.  David was an extraordinary applied mathematician who later headed DAMTP at Cambridge and along with Michael Atiyah represented Britain at the IMU.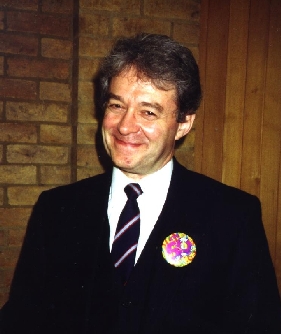 One evening with David and his Dutch wife Joanna, to my astonishment Joanna recited chapter and verse from Vancouver School Board minutes of my experiences with Vancouver schools and in particular of school board attempts to discredit UBC Math Department studies of schools.  It turned out that although based in Holland, Joanna was a consultant to many school boards in North America, including Vancouver's.
I have authored or co-authored two papers in science education journals.  The 2013 paper  published in the International Journal of Science Education : Student Success in First Year Physics and Mathematics Courses: Does the High School Attended Make a Difference, written with Maria Adamuti-Trache in Education at U Texas and Tom Tiedje, Dean of Engineering at U Victoria and former Head of UBC Physics, continues to receive a lot of media attention.
Recently, I served on the now disbanded BC Provincial Board of Examiners.
In 2000 I received the first PIMS (Pacific Institute for Mathematical Sciences) Education Award.  In 2001, I was honoured as the first westerner to receive the Adrien Pouliot Award from the Canadian Mathematical Society. The award recognizes individuals or teams of individuals who have made significant and sustained contributions to mathematics education in Canada.
More recently, I have been involved with improving aboriginal education in mathematics in BC schools.  I am on the Board of a non-profit society connected with this.
In getting involved with schools, it is important to not bash schools and especially not bash teachers and to be constructive.  Most important, for credibility, it is essential to follow through in any new initiative.  I have found working with schools to be an effective way of balancing math research activities. In research, one needs to pause when hitting a brick wall and the impact of a significant result is rarely immediate. When visiting a school or mentoring a student, one is often rewarded by immediate impact.
I have taken on several roles at UBC, as a co-founder of the Institute of Applied Mathematics, as a member of the inaugural UBC Major Entrance Scholarship Committee, as the first undergraduate chair in Mathematics, as Head of Mathematics for five years, as a member of the UBC Medical School Admissions Committee, on the executive of the Faculty Association, as chair of the bargaining committee for the Framework Agreement, and two terms on Senate where I served as Chair of the Senate Awards Committee.
Let me relate some escapades connected with these UBC activities:
While serving on the Major Entrance Scholarship Committee, UBC initiated five National Scholarships.  In the first year of these awards, clearly the two best students were from the same school in Victoria.  Against my strong objections, the committee decided to allow a school to have at most one such award.  The second student was given a lesser award.  I presented these awards for UBC at the McPherson theatre in Victoria. Before doing so, I met the families of the award winners.  It turned out that the second student was aboriginal.  Not only that, he was a member of Canada's Olympiad team for Physics.  I came back to UBC even more furious and the second student was offered a National Scholarship. Later that summer, he tied for the top score in the world in the Physics Olympiad with a student from the Soviet Union—a feat never before achieved by a Canadian.  By the way, the first student is now a cherished faculty member of the UBC Physics Department.
The deparment was very busy during my headship, especially with the hiring of 23 tenured or tenure-track faculty, and the inauguration of PIMS and MITACS. There were certainly many unexpected incidents, including flooding, CSIS, the RCMP, harassment cases, cheating and even chalk.
I will focus on two incidents:
One day it was brought to my attention that the chalk seemed to be crumbling.  I investigated and was told that there had been no change in UBC chalk.  Checking this out, I did not believe this and protested vigorously.  Finally, it was admitted that there had been a change to save money. After this, the person in charge of UBC supplies came to the Head's office with about a dozen boxes of different chalks and said that we could choose anyone of them to be UBC's chalk.  This is the chalk we have today.
A number of female students complained to their math instructors about a harassing male student who leered at them in lectures.  I received such a complaint from two instructors.  Apparently the individual was not a student in the respective classes.  So I asked for an alert to be put out by the Sexual Harassment office—they refused to my chagrin.  About two months later, the front desk in the Math department mentioned that a male student wanted to see me about a complaint of being harassed by a male student.  The staff were afraid of this complaining student from his mannerisms.  I had a suspicion that this might be the actual culprit who had harassed female students.
So I said that the alleged culprit should make an appointment to see me on another day. I contacted the responsible Associate Dean about this before seeing the culprit.  So the alleged culprit came in to see me to lay a complaint about a male student who had harassed the culprit by confronting him in the Buchanan corridor for leering at his girlfriend.   I told the culprit to put everything in writing and to sign his statement.  While writing his statement the Associate Dean phoned me and I had a hard time putting him off.  The next day an RCMP constable came to see me, and then the culprit was arrested during a class and a front page story appeared in the Ubyssey with a photo of him.  He was expelled from UBC and I believe was jailed for a short time.  Later he harassed President Martha Piper.
Let me relate a Senate escapade.  During my second term an amended bursary award was brought forward for approval.  This award originated in 1938 and a large amount of money had been added to it as a result of an estate.  The problem was that the award was restricted to a British subject and was not to be given to a Catholic.  UBC had gone to the Supreme Court and the judge would not allow a change in restriction to a non-Catholic as requested by UBC counsel.  As chairman of the awards committee, I was not agreeable to putting forward the amended award for Senate approval, and neither were any of my fellow Senate members on the committee. But UBC counsel refused to go the BC Court of Appeal.  I looked over UBC's case presented to the Supreme Court and thought that UBC's presentation was abysmal.  I consulted a friend of mine, an Appeal Court judge, about the chances for appeal.  The judge thought that the chances would be good.  I did not mention this consultation to anyone.  In any case, for two more years this award could not be given.  Finally, UBC counsel relented and agreed to go to the BC Court of Appeal.  UBC hired a very good lawyer for the appeal.  We spent some time together. I attended the Appeal Court case and actually played a role in the hearing.  The lawyer argued on three grounds: precedence in a British case, the way the world was in BC in 1938, and how the donor would have acted in current times—he used the example of another donation he had made to UBC and the independence of UBC Senate committees.  The three Appeal Court judges ruled quickly and changed appropriately the terms of the award.  They went further and ordered that all appeal expenses could not be charged to the bursary funds.
External to UBC, I served as a vice-president of the Canadian Mathematical Society, inaugurated annual meetings for heads of Canadian Mathematics departments, and was the first Canadian invited to make a presentation at the annual meeting in Washington DC for US chairs of math departments.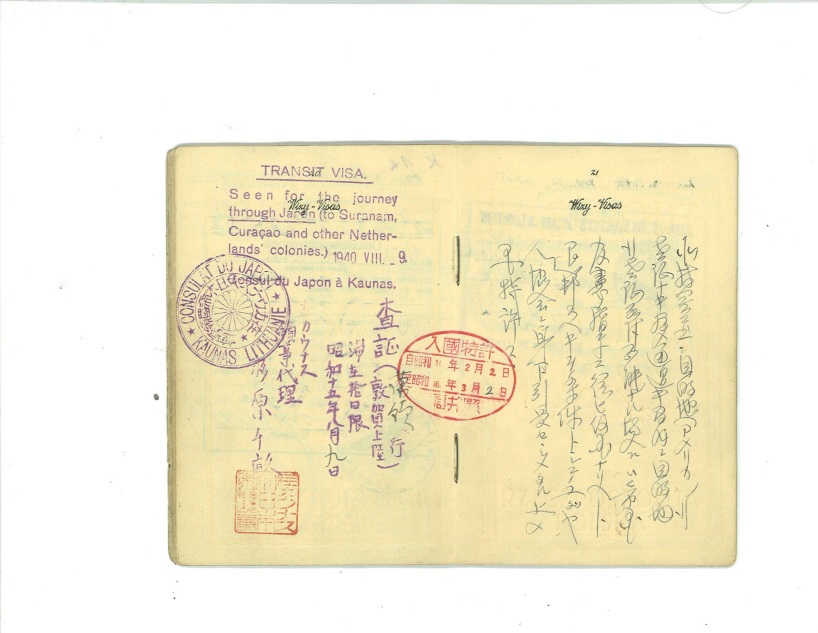 I will relate an escapade that arose when serving as VP of the Canadian Mathematical Society. The most prestigious world award in Mathematics is the Fields Medal.  This Canadian award was initiated by the University of Toronto mathematician Fields. The medals are minted in Canada, have a cash award of only $15K and are presented by a Canadian official.  The Fields Medals are awarded every four years at the International Congress of Mathematicians.  Recently, Norway had initiated the Abel Prize in Mathematics with a cash award equivalent to that of the Nobel Prizes. We felt threatened by this.  So we wrote to Prime Minister Chretien with two requests: to increase the value of the award to that of the Nobel Prize and for the Prime Minister of Canada to make the presentation.  The next award ceremony was to take place in the Canadian consulate in Beijing.  We were turned down on both requests. When the ICM was held in Beijing, the President of China, Jiang Zemin, for the first time came to the Canadian consulate for the award presentation and apparently spent two hours there.  The embassy was amazed!  There has been no change to-date but the Fields medal has not lost its prestige value.
For the past two decades I have chaired the Kristallnacht Committee for Vancouver.  My parents were saved by the now famous Japanese vice-consul Chiune Sugihara, who issued them a life-saving visa without their having proper documentation, and who also acted against the orders of the Japanese government.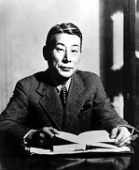 I have been doing research on this and am in regular contact with the Sugihara family in Japan.  I have given many talks about Sugihara's exploits here and in Tokyo and will be giving a related keynote presentation at this year's annual Kristallnacht commemorative event in Vancouver in November. Earlier this year he was featured at the exhibit in the Vancouver Maritime Museum in celebration of Yokohama's fifty years as a sister city of Vancouver. Currently there is a major exhibit in Tokyo honouring Anne Frank and Chiune Suighara.  A feature film about Sugihara, shot in Poland with leading Japanese and Polish actors, will premiere in December in Tokyo.
So I have had a fun-filled time as a student, researcher and in working with schools during my UBC experience.

100 Years of Clark/Reid Family Teaching at UBC by Hilary Reid (née Clark)
January 2016
Happy 100th Birthday, UBC!
Did you know that we share a Centenary? That's because back in 1916, my grandfather, Robert Harvey Clark, became one of the founding members of your Chemistry Department. Amazingly, there's been an unbroken succession of Clark descendants teaching at UBC ever since. Just as two World Wars and the Great Depression shaped UBC's development, so did they impact my family's ongoing connection with this great university over the last century.
Here is a brief familial history as it relates to UBC, aided by the fact that the Clarks never seem to have thrown out a document in the last hundred years.
In the family archives, for example, are a few letters from the first President of UBC, Frank Wesbrook, to my grandfather, pertaining to the university's early efforts to bring him on faculty. On Aug. 21, 1914, Wesbrook wrote "We are hoping that the war situation will not prevent our going ahead next year, although it will be impossible for us to undertake our work in the new Science building in 1915-16."  On March 1, 1915, the President again wrote, "Owing to war conditions our budget has been cut….The Government holds out the hope that even during the next year if favourable war news is forthcoming…we may resume our plans."
Finally, in 1916, R. H. Clark was successfully engaged "to take full charge of all the organic chemistry given in the University."  Having just married Hulda Alberta Mills in Ontario that summer, he brought his new bride to Vancouver to begin their life together at the fledgling University of British Columbia. When he began his career, the campus comprised just one building and four huts adjoining the General Hospital on Fairview Slopes. His starting salary was the princely sum of $2,700 per annum.
So who exactly was Robert Harvey Clark? My grandfather was born in Ontario in 1880, and after attaining two degrees at the University of Toronto, completed a PhD from the University of Leipzig in 1909.  Once at UBC he achieved the rank of Full Professor by 1922, and was Department Head of Chemistry from 1927 to 1948. According to his biography, written by J. A. F. Gardner for the Royal Society of Canada in 1962, his research interests were broad, including among other subjects "the analysis and evaluation of medicinal plants and other flora of western Canada, the densification of native softwoods, and the preparation of synthetic wool and rubber. Interested in the development of the natural resources of British Columbia, he collaborated with specialists in medicine, biochemistry, biology, fisheries, and wood utilization."  He was also heavily involved in research, much of it classified, to assist in Canada's Second World War effort.
A Fellow since 1928 of the Royal Society of Canada, on retiring in 1948, R. H. Clark was awarded Emeritus status by UBC; became an Honorary Life Member of the American Chemical Society; and was named Honorary Life Fellow of the Chemical Institute of Canada in 1954 "in recognition of his extensive and valuable contributions over many years to the development of chemistry and chemical industry in Canada."
Not only did R.H. Clark introduce several UBC generations to the exciting possibilities of organic chemistry, he and his student protégés published over 100 scientific papers and reports. He was apparently known not only to be an enthusiastic teacher, but also one who took a keen personal interest in his students, and who inspired many to specialize in the same field.
Perhaps one of his most cherished contributions to university life, and one which lasted longest in the memory of his students, were the parties he and his wife Hulda hosted each year for all the Chemistry students in the Department at their stately Kerrisdale home on West 49th Avenue. I remember long after my grandfather's death in 1961, how pleased my grandmother was to continue receiving dozens of Christmas cards each year from many of these grateful former students.
The Great Depression left its mark on UBC, just as it did on the rest of the world. Even during this period, my grandparents continued to entertain students in their home. In her private memoirs, my Grandmother recalled "Professors were let out at UBC and salaries for those remaining, cut.  We never turned anyone away from our door and tried to give a word of cheer along with a good meal. At our annual student parties the quantities of food disappeared with amazing rapidity. The students came at 8:00 and stayed until after 1:00 a.m."
Hulda Clark took an active role in university life in her own right, as a Charter member of the Faculty Women's Club in 1917, and later its President (1939, 1940). She was also President of the Women's Educational Auxiliary to Union College (1956, 1957), on whose Board R. H. Clark served as Chairman for eight years post-retirement.
It was in the fecund days of UBC's early development that my father, Robert Mills Clark, was born in 1920, followed by his brother, Douglas Harvey Clark, six years later. R.M. Clark went on to become a UBC student, graduating as a Gold Medalist in Commerce in 1941, and with an Honours BA in Economics in 1942. (These disciplines were to the disappointment of his father, who had hoped he would become a scientist.)  Robert Mills Clark then obtained MA and PhD degrees in Economics from Harvard University in 1944 and 1946. With alacrity, UBC President Norman MacKenzie, in a letter dated May 1, 1946, offered him a teaching position at UBC that fall with a starting salary of $3,000.
World events again played a hand in the family UBC chronology. Although my grandfather should have retired at the age of 65 in 1946, he also received a letter from President MacKenzie, requesting that he stay on to teach another year "and thus help us meet the emergency caused by the large enrolment of veteran students." In the end, R. H. Clark remained not one, but two extra years to address the huge demand for a university education created by returning Canadian soldiers. Father and son therefore taught on the UBC campus together for two unexpected but welcome years.
UBC's post WW II experience was later alluded to in a poem composed by Robert Mills Clark for a dinner in honour of former President MacKenzie's 90th birthday in 1984:
When you came to the campus in '44
There were three thousand students, perhaps a few more.
Dynamic duo, you and Shrum,
Swiftly prepared for the veterans to come.
Old army huts sprouted where grass there had been,
With 9,000 students at their books on the scene.
New programs were added in Science and Art,
New faculties started in which some here took part.
Programs for professions and business as well,
And Graduate Studies. There's so much to tell!
All of these faculties growing in scope,
Offered more students some new grounds for hope….
When R. M. Clark joined the Economics faculty in 1946, it had only four or five members, and was under the larger rubric "Department of Economics, Political Science, and Sociology." Former colleague Tony Scott recalled the Department being inundated with hundreds of post-war students  in accelerated programs for Arts or Commerce degrees, and Robert Mills Clark being "very welcome not only because he was a fine and hard-working teacher, but because at Harvard he had excelled in a number of fields that gave him the versatility to cover more than his share of the department's offerings… general and advanced statistics, the history of economic thought, the measurement and prediction of business cycles, and of course, his own field: the economics of public finance."
It was, indeed, public finance which was dearest to my father's academic heart. His expertise included government finance, provincial and municipal taxation, pensions and connected legislation, and the governance of universities. Throughout his career he frequently advised all levels of government on taxation and pension related issues. In addition to teaching, which he loved, he served as UBC's Director of Academic Planning from 1965 to 1977, and on the University Senate from 1966 to 1977. On campus he was renowned for three distinctive characteristics: his trademark bushy eyebrows, the miniature schnauzer which accompanied him to lectures for many years, and the clever verses which he frequently composed to mark special occasions in Senate and other meetings.
Robert  M. Clark also served on the Board of the Vancouver School of Theology, and was instrumental in the affiliation of Regent College with UBC in 1974. A key player in establishing the Faculty Pension Plan in its current form, he was a member of the Board of Trustees for the Plan for over ten years. Likewise, his report on Economic Security for the Aged, commissioned by the Federal Government, had a large influence on the subsequent course of Old Age Security Benefits in Canada.
Clark's significant contributions to the University were acknowledged, among other accolades, by his receipt of UBC's Blythe Eagles Service Award in 1992. The Robert Mills Clark Scholarship he endowed continues to be offered annually to outstanding students majoring in Economics. R.M. Clark was awarded the 125 Year Confederation Medal by the Federal Government in 1992 for his outstanding service to the people of Canada.
Returning to earlier family history, in 1953 Robert M. Clark broke the rules and married one of his brightest students, Merle Wiedrick. Although taking his Economics course, she was an English Honours major, who still remembers fondly the inspirational teaching of Roy Daniells and Earl Birney of UBC's small but inspiring English Department in the early 1950s. Merle Clark was active in the Faculty Wives' Association, and served instrumentally on the Board of Regent College for many years.  Robert and Merle had five children: Robert Gage, Hilary, Alison, Rosalyn, and Jeremy. Of these, four eventually attained one or more UBC degrees, in Economics, Commerce, English, and French.
I, the eldest daughter of this union, was the English Major. Attending UBC between the years of 1975 – 1980 in the English Honours program, I, like my mother, was highly impressed by the calibre of my professors. Classics sage Malcolm MacGregor stands out in memory, striding to class in his flowing black gown. Prof. Ben Moyles somehow pulled me through the dark waters of first year Math to land exhausted but alive on the far shore.  English professors such as Geoffrey Durant, Jonathan Wisenthal, Craig Miller, Richard Bevis and Ira Nadel made learning a delight, and prepared me so well for my Master's Degree at the University of Toronto that I completed it the following year, in 1981.
Returning to UBC for some Education courses, I then worked as a Lecturer in the University's revered English Department for three years, and at UBC's English Language Institute starting in 1982, the same year I married UBC biology graduate Bruce Reid. Thirty-four years later, I am still teaching full time at the Point Grey campus, where I enjoy instructing students from around the world who are attracted by UBC's overall excellence and worldwide reputation. Like R. H. and R. M. Clark before me, I was fortunate enough to overlap my father on campus; Robert Mills Clark retired Emeritus from UBC in 1985, and passed away in 2007.
I have not been the only one of my siblings to teach at this university. My brother Jeremy Clark, with two degrees from UBC (BA 1990, MA 1991) and a PhD in Economics from Cornell, was a visiting Assistant Professor of Economics at UBC from 1996 – 98. He subsequently took a position in the Economics Department at the University of Canterbury in Christchurch, New Zealand where he continues as Professor, until recently serving as Head of Department.
Surprisingly, this UBC family chronology continues even beyond our generation. Seven of Robert Harvey Clark's great-grandchildren have also attended UBC, including Jennifer Alparaque (née Clark), David Clark, Jonathan Clark, Tim Reid, David Reid, Iain Reid, and Ethan Faris, the latter three still students today.  In fact, there is even a member of this fourth generation who has lectured in the hallowed halls of his forebears.  PhD student and Teaching Assistant David Reid has helped instruct more than one Geography course, and to no one's surprise, finds that he enjoys teaching.
And what, one might ask, has my family learned from their association with this university from its embryonic stage?  Whether one teaches in the Sciences or the Humanities, to students from near or far, with the privilege of education comes responsibility. This includes not only the responsibility to impart knowledge, but also to pay attention to the larger world and its problems, and to contribute actively to their solution, while encouraging one's students to do the same.
One hundred years for UBC; one hundred years and four generations of our family history entwined with this great institution. It has indeed been a privilege and a highly educational experience.
These pictures are reproduced with the permission of Hilary Reid

'A Vet Returns: English at UBC in the 1940s' By Jan de Bruyn
[An extract from Jan de Bruyn's unpublished autobiography, published here with his permission.]
Shortly after my discharge from the Army I registered along with hundreds of other veterans at the University of British Columbia. It was September 1946. I was eager and straining at the bit. It had been eight years since I had completed Senior Matriculation, and I would have to relearn the habits of study. But I had the advantage of having taken my earlier schooling seriously, and I had in those earlier days conducted my studies in an organized manner. I imagined that I would have no difficulty riding this new bicycle; it was very like the old one.
Having had Senior Matriculation, I was able to enter second year; I registered for the mandatory English course, Canadian history, Psychology, Philosophy, and Economics. All were unfamiliar subjects to me except English. I had very little interest in them, but had to work through them to reach third year when I could load my program with English courses.
The English 200 course was enormous; everyone in second year, at that time, was required to take it. The class I was in was held in a large theatre room in one of the original "temporary" buildings on the campus then known as Applied Science (later to become the Geography building). The room was packed with an audience made up very largely of veterans like myself, mostly "mature" students. I was eagerly awaiting the entrance of the professor, and the beginning of my study of English literature. I was fondling an empty pipe, occasionally putting it in my mouth. In walked Thorleif Larsen, looking formidable and professorial in his black academic robe. He looked straight at me, picked me out of this throbbing mob, and said, "Put that pipe away. This is a university, not a public house!" I felt humiliated and deflated.
Some years later when I told him this story, Prof. Larsen didn't remember the incident at all. I guess he was just making sure from the outset that these bold and rough vets had better know who was boss and that the boss would tolerate none of their coarse tricks in his classroom. Natural enough. Ironically, it turned out that the very best and most stimulating course I took throughout my student years was his seminar on Literary Criticism.
English 200, the survey of English literature from the Renaissance to the Victorians, was the highlight of my year. I found the other courses interesting enough, but they did not engage me intellectually. Economics seemed to me to be a very inexact "science" and therefore not a science at all; Psychology appeared to be largely a matter of common sense lifted to the level of significant discovery. I found the language of the textbook we had to read quite appalling, larded with the jargon of the subject and consequently lacking sharpness and precision. For Philosophy we had a newly appointed professor from the U.S. who was reputed to be a real whizz. His name was Barnett Savery (at UBC 1946-71). He was interesting enough, but only, I think, because the subject matter was a novelty for me and the substance often encouraged one to use Poirot's "little grey cells." But I could not imagine spending one's whole professional life dealing with insubstantial abstractions without anchors in reality.
One other course I had actually chosen because I was genuinely interested in the subject matter – Canadian History. Unfortunately, the instructor was rather inept. He dealt in fact only, taking his material straight out of the textbook, and failing entirely to organize the facts into a coherent picture of the national developments that eventuated. We were expected to remember (for examination purposes) the population statistics for domestic livestock in New France, for example, but heard nary a word about the contribution this livestock made to the economic development of the colony. Having a rather naïve (I suppose) conception of the ideal way in which such a course ought to be taught, I went, along with a friend who shared my concerns, to see the instructor to tell him of our reaction to his approach. I had conceived of this direct confrontation as the way people at the university behaved. Professors would be delighted to hear how the students responded to their courses, and the exchange of ideas about communication between teacher and student was surely a normal aspect of the process of education! I was wrong. Although this instructor put a bold face on it, he was evidently surprised, if not shaken to find himself the subject of critical examination by students, who apparently expected him to listen seriously to their concerns and to either defend his pedagogical manners or change them. When I received back my term paper, I found that I had achieved a mark of 5 out of 10! I had made one spelling error; apart from that there was no mark on the paper, and no comment to explain what the deficiencies in the essay were. I went again to see him, to ask for a more detailed critique of the paper. I explained that I had received first class marks for the work I had submitted in my other courses. I got nowhere. I thought it an instance of blatant discrimination. I managed to create an ironic situation in this instance too. After I had written the Christmas examination, I was asked to come to his office. I was given to understand that I had got the highest mark in the class, and he wished to persuade me to take Honours in History. I was pleased to be able to tell him that I was already committed to the idea of doing Honours in English – so no thank you! This instructor was not on the faculty in the following year—a big plus for the History Department.
I had better luck with the instructors of the English 200 course. The material of the course, now unfortunately missing from the curriculum, was examples of the best literature from the Renaissance to the Victorian period. We had different instructors for the various literary periods in order that each period could be taught by an expert in that area. We were therefore treated to instruction by some of the senior members of the Department: Larsen for the Renaissance; Billy Macdonald for the l8th century; Roy Daniells for the Romantics; John Creighton for the Victorians. It was a great course, packed with fine representative works, well calculated to provide a significant overview of the history of English literature, omitting, understandably, only the Middle Ages, where the difficulties of language made its inclusion in a survey for universal student consumption impractical. I was immensely grateful for this course and have always regretted the thinning process that went on to reduce its "burden," and its eventual disappearance. It provided me with a solid basis for the study of English literature that followed, and its usefulness in that respect continued to be evident to me even when I was doing graduate work in England.
Every class I was in was enormous in terms of population. The advent of the veterans had been like a sudden flood. Army huts were brought on Campus to serve as temporary classrooms, and in first and second year most classes were held in the largest available accommodation. My largest class, Psychology, was held in the Auditorium (now the Old Auditorium) to a packed house of some 500 students; the smallest, Philosophy, met in an army hut with seating arranged theatre-style. There were about 100 students in this class. As a consequence of these large groups, it was difficult to make friends with people who shared your particular interests. There were a few people on campus whom I knew. Noel was back finishing his B.A. in History. He was a senior and I rarely saw him except by chance. Pete Brolly who had served in the Airforce was also there; he was taking Commerce and seemed to spend most of his time at the remoter edges of the campus. The fellow who had persuaded me to go to see our History instructor was Roger Pederson, a friend of Ida and Warren Workman whom they had met in the Arctic when they were first married. Roger was a bit of a maverick, but in spite of his wilder tendencies, he and his wife Joan became our good friends. Roger shared the Canadian history class, as I have indicated, and we often had a coffee together in an army hut which had been transformed into an eatery to deal with the overflow from the Cafeteria, which was the main food and drink dispenser on campus, and which occupied the basement of the Auditorium.
It was at one of these coffee sessions that we met a chap called Rod Young. He was older than we were by about ten years. His main interest was politics, which appealed to Roger more than to me; I was never an enthusiast, but rode along. I was certainly on the left, a social democrat, but I could never arouse myself to any enthusiasm for the various "causes" that people seemed to get all excited about. My views were broad and general; I believed in justice for all; I was for a more equitable distribution of wealth; I wanted the worker to receive a fair wage for his labours; I wanted universal health insurance provided by the state. But I was no activist. Rod Young, however, was, and in Roger he found just the man to join him in whatever escapade he might choose to mount. Rod had political ambitions, and he decided to run as a candidate for the federal by-election that was to be held in the spring of 1947 in Vancouver Centre. To this end he recruited a gang of helpers from among his fellow students, Roger and I among them. He had us out on weekends handing out leaflets, and knocking on doors to ask for support for our candidate. Rod was running as a C.C.F-er. The constituency had been staunchly liberal, the seat having been held by a cabinet minister called Campney. We worked hard for Rod who ran his campaign with industrious enthusiasm. And amazingly, I thought, he won the seat, and went off to Ottawa. He soon squandered the opportunity, however, by showing his true colours; he was far more radical than we had been led to believe; he was undoubtedly a Communist. This did not sit well with the electorate, who threw him out in the following year when the general federal election was held. Needless to say, we felt betrayed.
School work necessarily occupied most of my time, both on campus and off. Between classes, I would go to my seat in the library which I reserved early in the day by placing a pile of books and notes on the table. There I studied and did whatever exercises or essays had to be prepared for handing in. I had a carefully organized timetable for studying to ensure that all my subjects were allotted equal time, and I adhered strictly to my schedule. But I had to find some way to augment our regular income, which consisted of a monthly payment of $60.00 for a married man plus $12.00 per month for each child. So our monthly income was during this first year $84.00. We could barely scrape by on that. Besides we had to consider the summer months, during which our allowance was cut off until the next session of university began. I undertook various jobs. Somehow, I got to be a filing clerk at the university's counseling office. They always had a lot of loose paper around that no one was interested in filing away, and I would go in every once in a while and tidy the place up. Besides that, I had a scrubbing route; usually on Saturdays when lectures ceased at noon, I went over to Acadia Camp to scrub floors. I had two or three regular customers, and I also scrubbed out the hut the residents used as a sort of community hall. These odd jobs were time-consuming and didn't bring in very much, but it was better than nothing. Besides these, I got a job, as many of my fellow-students did, delivering Christmas mail during the holidays. The first time, in 1946, I was assigned to the Capitol Hill area, where each house was perched on the hillside, and could only be reached by climbing innumerable steps. One was very glad to get the mailbag emptied so that one could retreat to some dry spot to recover. All these were stopgap jobs; I eventually heard of the possibility of work at Woodward's in the Mail Order Grocery Department. This department assembled grocery orders received by mail, packed them and sent them off as freight on the coastal steamers of the Union Steamship Co. to various centres up the coast between Vancouver and Powell River. There were two shifts: 8 a.m. to 4 p.m., and 4 p.m. to midnight. I applied and was accepted, and this job provided the extra income we needed for the rest of my student days at U.B.C. It was very convenient. I could work weekends, and also full-time during the holidays, so that we could weather the drought of the summer when our government cheques stopped coming.
April, says the poet, is the cruelest month! Certainly for me April 1947 was a tough one. I had examinations to write, and a very large garden to cultivate, and all this had to be done at the same time. I had begun the process of review about the beginning of March, and had as usual a schedule of review to follow, as well as a schedule of work to keep me up to date and get any written work done. As the spring advanced I had to get into the garden and dig it up. When we moved in, the garden was covered with couch grass. I hired someone to plough it up with a roto-tiller, but the tines just got fouled up in the long tangles of grass, so I had to do the job by hand. So in the spring it was a matter of turning the soil, but still a long job. And then, of course, I had to plant whatever we decided to grow. It was awkward having to do this at the very time when I needed every available minute to stay on top of my courses. I was hoping to do well, though lacking in confidence. I made a bet with Pete Brolly that I wouldn't get a First Class average; Pete had more confidence in me than I had. This bet with Pete became a kind of superstitious tradition, and fortunately for me Pete always won, so I won too in a way, and we were both happy. I had another rather silly superstition about exams; I had to go to the university on my bicycle whenever I had to write an examination. Don't ask me why! But it was beneficial to have the exercise and the time to reflect on the material I was going to need to write the paper. By the end of April [1947] the exams were over, my first year as a student was finished; time to go to work at Woodward's.
I didn't see much of the children during the daytime except on Sundays, but I got to put them to bed after supper, and read to them, and on Sundays we would go for a walk if the weather was not too awful. There were also occasional excursions by streetcar to the Farm at the university to see the cows and sheep, or to Stanley Park for a visit to the zoo and to feed the ducks at Lost Lagoon.
After a month or so of nail-biting suspense, I finally received my marks in the mail. I had lost my bet with Pete. Hooray! As soon as I knew that I had my first-class standing, I went to see Dr. Sedgewick, the head of the English Department, to ask him to admit me to the Honours Program. He lived in an old frame house on Trutch Street, and I called on him there. Sedgewick was a legendary figure for me. I had been hearing about him since my high-school days, when David Mac Caughie spoke of him. David had actually met him, and the wild goatherd poet of Gibson's Landing about whom David was always exulting incorporated Sedgewick in his incomprehensible Ezrapoundian verses as G.G. Homer Sexwick. It was well known that he was gay, but no scandal was ever connected with his name. He afforded sly amusement in this context, but no derision. He was universally respected as a teacher, and was well-known in the city because he wrote a column in the local newspaper for a considerable period. I, of course, was in awe of him. He was a small man, maybe 5 feet, 2-3 inches. Sharpish chin, large eyes behind thick lenses, gray, thin hair on his balding head, thick dark eyebrows. He spoke precisely through thin lips with a slightly English accent. He was very friendly to his awe-struck, nervous visitor. It didn't take him long to make me feel comfortable in his presence. When he had found out what he wanted to know about me he assured me that I could try Honours English if I wished to, and cautioned me to expect a lot of hard work. I assured him that I was ready for that. When I prepared to leave he shuffled up to me, took my arms in his hands, looked up into my face with his spanielly eyes, and said he would let me go to hell in my own way. In a year he would be among my friends. To this day I hold him in high regard, and have always been grateful to him for his tutelage, his encouragement, and above all, his friendship.
So at last when the summer was over, and it was again time to register at the university, I was able to indulge myself, and drown in English courses. I had to take one course outside the department, and I chose British history as being most helpful and complementary to my English studies. The course I took was taught by Professor Sage, the head of the History Department. I think it was his last year. He, at least, was very relaxed, and spent more time telling jokes and laughing at them than getting on with the material. When March rolled around he was just emerging from Anglo-Saxon England, and preparing the field for the Battle of Hastings. Fortunately, there was a literary option on the final exam, which I appreciated very much.
With respect to the main course, my plate was overflowing: Renaissance Poetry, Dorothy Mawdsley; Shakespeare, Sedgewick; The Novel, Freddie Wood; Honours Seminar: The 1590's, Phillip Akrigg, and the not-so-pleasant but required Anglo-Saxon, Billy Macdonald. I enjoyed them all, except for Anglo-Saxon, but even there, it was fun to participate in Billy Macdonald's enthusiasm for the puzzles of language. He always had a Vulgate Bible with him so that he could check the Anglo-Saxon translation for accuracy. He was nearing the end of his career. He spent his last years studying botany; one used to see him rushing about on the campus examining the trees and bushes, and picking sample leaves to contemplate when he got them home. In English 200 he had taught us The Rape of the Lock without a textbook. He knew it by heart.
Sedgewick taught his Shakespeare course in Arts l00 (later, Math. 100). He had a full house. Arranged in theatre style, the room catered to his histrionic style of teaching. He fancied himself an actor, and played G. G. Sedgewick to the hilt. On the first day of the class the place was full of chattering students; the bell rang, but there was no change in the racket. The diminutive body of Sedgewick entered at the front of the room; the din continued. He stood there for a moment, then turned, and walked sedately out. The class was thunderstruck. At the next class, you could hear a pin drop; we listened for his footsteps coming down the hall. He entered and looked at the class in his baleful way, and finally walked to the lectern.
On one occasion a student at the top of the banks of seats complained that Sedgewick had marked only a single page of his term paper; Sedgewick replied. "I don't have to eat the whole cheese to know it's rotten." There were no further complaints. When we reached the point in King Lear where Gloucester's eyes are plucked out, he silently closed his book and walked out of the classroom. There are more ways than one of communicating powerful feeling. Sedgewick's method in teaching Shakespeare was to rub our noses in the text. Read it intensively, investigate the meaning thoroughly, read every note and textual gloss, become intimately familiar with the text. His examinations tended to be simply a number of quotations, which we were required to identify and explicate. Other aspects of the plays could be discussed in our term papers. If you followed his regimen you knew the plays when the course was over.
I very much enjoyed the novel course. Freddie Wood began the year by snarling at us and trying to get students to move out and take some other course. I think he wanted to reduce the amount of marking he was going to have. Freddie had a long thin face, and a mouthful of very large horsy teeth which were prominently displayed when he was making his snide remarks about students in his efforts to discourage registrations in his class. But he inevitably ended up with a full house in Arts 100. His lectures were useful and apposite, but I discovered later that he taught the novels on the list from old notes without re-reading the books. I found the course most interesting and useful, and was particularly grateful for having been introduced to the work of Jane Austen, whose novel Pride and Prejudice is surely the best example of the genre in our literature.
Finally, there was Phil Akrigg's seminar on the 1590s. There we examined a number of works of prose and poetry not usually found on the normal curriculum, the marginalia of the Elizabethan period like Dekker's The Wonderful Year, and Coryat's Crudities, Drayton's Idea, Spencer's Mutabilitie Cantos, and so on. Akrigg was fresh out of his PhD, and was not, perhaps, at his best with a small group, but he worked us hard and the discussions were wonderful opportunities to talk with our peers under supervision about significant aspects of literature. We learned to eschew romantic generalizations and to focus on the text. This seminar brought the Honours group into close contact with each other, and enabled us to establish relationships which were helpful in all our studies, and in our common interest we provided each other with moral support which was important certainly to me during this period of uninterrupted work and the consequent stress. The best brains in the group were Jack Bilsland and Marion Chapman.
As Third Year Honours drew to a close, I made my bet with Pete, worked up a study schedule, got out the gardening tools, and did what had to be done. The examinations came and went, and once again I had to wait several weeks before my marks arrived in the mail. Happily I lost my bet again, and was very much heartened that I had weathered the storm and achieved my purpose
Before the end of term I had been to see Freddie Wood about an idea for my Graduating Essay, which was part of the requirement for the Honours degree. I wanted to deal with the contrast in the way Jane Austen and Charlotte Brontë displayed the drama of life. I suggested to Prof. Wood that I might develop my theme by having Jane and Charlotte engaging in conversation in their angelic robes; I think Freddie was a bit scandalized by this notion; no, no, I had to go about this in the conventional way, with all the trappings of scholarship. At any rate, he agreed to be my supervisor. During the summer I undertook to read all the novels of these two authors, and do some preliminary thinking about it. I knew that it was going to be difficult to squeeze in work on this project with all the other tasks I would be faced with. As usual, I worked at Woodward's as often as possible, and tended my garden, watched my kids grow and played with them whenever opportunities arose.
In September [1948] it was back to the books. I had another busy and exciting year to complete. Honours students then had to take two courses more than was normally required. I knew it would be foolish to take the extra courses in the winter session. This would mean spreading myself too thin all over the work I had undertaken, so I left the extra two courses to do in the summer session, and so would graduate at the Fall convocation. Still, the burden in Fourth Year was heavy enough. We had to write our Graduating Essay and we had to swot up the history of English Literature for a set of five examinations which we had to pass but which yielded no credits. These two heavy requirements were over and above the normal load of coursework. This Honours program was tough but decidedly thorough. I was so fully engaged in the process of becoming educated, as a matter of fact, that although I had been accepted as a member of the prestigious Letters Club, I had been unable to participate. Well, first things first!
My program for this year consisted of another Shakespeare course, from Sedgewick; Victorian Poetry, from Bill Robbins; Chaucer; from Sedgewick; Linguistics, from Ruth Humphries, and an Honours Seminar conducted by Thorleif Larsen. The linguistics course was something that I had to take, but I was not particularly engaged by the subject. Ruth Humphries had prepared herself assiduously to teach it; it was not her special field by any means, but she did the job, although she ruffled a few feathers and drew complaints from some of the students. There was a small rebellion, but the majority of her quite small group remained loyal to her and she managed to survive the year, and in my view she deserved plaudits for taking the course on and doing the job with such thoroughness. However, it was dull stuff; I just bulled my way through it, but I don't think any of it stuck. But the value of the course was that it brought me into contact with Ron Baker, who was doing an M.A. and was interested in the subject. He became a friend.
Bill Robbins was about as straight as they come. Like the period he taught, he was proper. He taught his course with high seriousness. Matthew Arnold was his special study, and like Arnold he appreciated what was best in the intellectual and literary worlds. His course was not exciting, but one got to know Victorian poetry. Bill revealed very little of himself on the lecture platform. I got to know him better later, and very much admired him. I discovered after his death that he was a poet, and that at the time Ida and I were contributing our poems to Birney at the Canadian Forum, so was Bill Robbins. And like my sister, Bill had found his way onto Birney's list of "poets to watch." I guess the professor took precedence over the poet in later years. Bill was a great guy for whom I developed enormous respect and an affectionate regard.
Larsen's seminar was based on the recent work of I. A. Richards on Practical Criticism. This course taught me how to read and evaluate poetry, and was without doubt the most valuable of my entire student years. Larsen began by issuing numbers. We were to use only the number we drew as identification on our written work. He did not want to know whose paper he was reading. In this way he minimized the possibility of any sort of bias. Right at the beginning he gave us four poems to analyze. We had to turn in the paper the following week. When I got mine back I had received 5 out of 10! I was devastated. I went home and cried. If that was a measure of my capacities I had no business in Honours. However, I swallowed my pride, and continued. The others had done no better. Larsen was obviously alerting us to the need to become precise in our criticism and to forego the clichés and vague abstractions that we had used to discuss literature heretofore. He began to show us how Richards' method could be applied to the examination of poetry, and how it would reveal the totality of meaning that was there, not merely what the poet may have intended, but also what he may unconsciously have included through his imagery, diction and other devices of the craft. Reading poetry became an adventure, and our papers became more and more detailed, and longer. As we had to do one every week, this course was extremely burdensome, but also very rewarding. It wasn't long before I was getting 8 out of 10, then 9's and eventually 10++'s. Larsen had instructed us not to write critiques on any poems that we recognized. He wanted our reactions to poetry that was a completely fresh experience for us. One time he gave us a poem by John Donne which I knew very well, and so I did not do a paper on it. Instead I wrote a poem for him about our early frustration in the course. I think he appreciated receiving some direct insight into our struggles. I quote the latter portion of my poem which was entitled "English Four Four Five":
In this frame I try to stand
With the poet hand in hand
And delight to find his passion
Speak to me in equal fashion.
But my joy is short of breath,
Dies a quick but painful death
When the pedagogal pencil
Smites the intellectual stencil;
Slashes here and questions there;
Stands on end the mental hair;
Scuttles vessels bearing feeling;
From this doom there's no appealing;
Scorns beliefs thought absolute;
Tears fond hopes out by the root;
Thorough is the biting lead,
To its judgement bows my head,
Not in shame so much as sorrow
That I cannot better follow
Poets and their songs of living
Which to most are freely giving
Passion, hope, all rich emotion,
Human love, divine devotion,
While I flounder in the dark,
Begging for the vital spark.
I spent the year in a swirl of paper: longer and longer weekly papers for Larsen, the usual term papers for my other courses, and the ongoing job of pushing ahead with the Graduating Essay. I managed to keep everything moving and got the work in on time, and by the end of term I had my Graduating Essay completed and handed Prof. Wood the required number of copies. Prof. Robbins was to be the other reader. In the midst of all this flurry and just at the time when I should be reviewing and getting ready for the final examinations, it was brought to my attention that there was a scholarship being offered for which I was eligible to apply, and I was encouraged to do so. This was the Beaver Club Scholarships, one being offered in each province to a veteran of the Canadian armed forces. The scholarship provided 500 pounds sterling per annum for study at a university in England. It could be extended to cover two years. I applied. I was apparently short-listed and asked to present myself in Toronto for an interview. Travel expenses were to be paid, as well as some daily allowance to cover meals and accommodation. The whole business threw me into a nervous tizzy. I handed my Chaucer essay in to Sedgewick, and made my excuses to Larsen to cover my inability to produce the next paper, and took the train to Toronto. Before I left, I had a marvelous indication of Sedgewick's goodwill. He asked me if I had appropriate clothing to wear to the interview; well, no; all I had was my old battledresses, one dyed brown, the other, blue. Sedgewick immediately wrote a cheque made out to Chapman's, one of the more expensive clothing stores in Vancouver, and left the amount blank. "Go and buy a suit"' he said. I had to pay more for the suit than I would have paid had I gone to Woodward's, for example, where I got a 10% discount because I was an employee, but I was stuck with Chapman's. Fortunately I was able to repay him very soon after I returned.
During the past year the relationship between Sedgewick and myself developed into as near friendship as it was possible to get without destroying the essential restraints imposed by the fact that I was one of his students. He had employed me as a marker, and Jimmy Sandison and I frequently went to his house to give him a hand with something or other, or simply to chat. I guess he became to me a sort of father figure.
I made the train trip with two other B.C. students with the same mission as myself. We were all hoping to become B.C.'s Beaver Club Scholar. The long nerve-wracking journey finally came to an end, and we arrived in Toronto where I had never been before. I didn't have much time for sightseeing, but I remember that I thought the city hall one of the ugliest buildings I'd ever seen.   They must have heard me, for not long afterwards Toronto built itself a very handsome and innovative civic centre. On the afternoon when I was to have my interview I went decked out in my new suit to the appointed place and was duly called. The door was opened to my knock by a small-statured birdlike man whom I recognized at once as Vincent Massey. He was most gracious and kind, and made me feel at ease immediately. He was the chairman of the selection committee; the others were my recent boss, General Crerar, and the President of Toronto University, Sydney Smith – a formidable panel of judges. I answered their questions as well as I could, and spoke of my ambitions and ideals, and of my interest in Canadian literature. I was soon dismissed with the same courtesy they extended to me when they welcomed me, but gave me no inkling of how well or ill-disposed they were to my cause. So I started home; I stopped off in Winnipeg to enjoy a brief visit with the Roys. While we were at supper the day of my arrival a telegram was delivered. It was addressed to me. It was from Betty; I have its text by heart: "England here we come. Life's proudest moment!" Indeed it was. There was great jubilation at the dinner table
Soon I was home again, and Betty and I had some planning to do.   Also, I had to pull myself together and finish the year; there were examinations to write, beginning with the Honours examinations on the History of English Literature – one on each of five periods: Anglo-Saxon, Medieval, Renaissance, Eighteenth Century, and Victorian. We wrote one a day for five days running, and were allowed to write as long as we wished. Some fun! I was exhausted after that. Sedgewick asked me where my Chaucer essay was; I told him I had handed it to him before I left for Toronto. He had lost it. I gave him the carbon copy, which fortunately I had kept, but I explained to him that I had no time to go through it to correct all the typos, and other mechanical errors there might be there. I assured him that the original had been virgin pure. But when I got the essay back, he had red-penciled all the mistakes anyway. He gave me an A+ and told me not to splinter my paragraphs.
When the end of term rolled around Sedgewick played a trick on us. He abruptly brought the class to an end on the penultimate lecture day. The class had decided to have a bit of a do for him because he was retiring. I had written a Chaucerian portrait of him and one of the girls in the class had made an illuminated manuscript of it, and we had bought him a small gift. So I had to write him a note indicating that the class had some questions for him and would he please turn up on the last lecture day. For the occasion, I went to class early and wrote the poem on the board, and established myself at the lectern. When he arrived, I waved him to my usual seat in the front row, and bawled him out for being late. Then I ordered him to read aloud the Middle English verses on the board. I explained that we had found a document in one of the squatter's shacks on the shores of the eastern end of Burrard Inlet, and we recognized the Chaucerian style. We wanted to consult him as to the authenticity of the manuscript. I frequently corrected his pronunciation as he read the poem on the board, and he bridled and fumed and was obviously having a wonderful time. At the conclusion of it all we presented him with the illuminated manuscript and the gift, and wished him well in his retirement. It was a wonderful occasion. We brought tears to his eyes.
At this time Honours students had to face a formidable oral. The student had to appear before an examining committee composed of all the senior professors in the Department. Any and all of them would throw questions at one for a couple of hours. When it came to the morning when I was to be the victim of this rather over-elaborate procedure, I was so nervous I couldn't remember who had written David Copperfield, and had to go to the Library just before the oral to look it up. When the proceedings began, Freddie Wood asked me to explain to the assembly what my Graduating Essay was about. I was speechless; I couldn't think. However, once I was recovered from the initial shock, I managed well enough. During the ordeal, I was nervously winding a note from my daughter Sydney about my fingers, and when the oral was over, Prof. Daniells, who was to become the new Head of the Department, asked me what the paper was, and I showed it to him. He laughed, and endorsed it appropriately. It is one of my treasures.
The old order was changing, yielding place to new. Sedgewick asked me to come and stay with him for a couple of weeks because his housekeeper was taking a holiday, and he didn't want to be alone in the house. So for two weeks I slept at his place. Towards the end of my stay, Sedgewick's Aunt Libby came to stay, and he was closeted with her in his study for hours at a time. He was, it turned out, giving her instructions about the disposal of his goods in the event that he should die. And he went to hospital soon after; I had no inkling of what was wrong with him.
By this time, Summer School was almost over. The Psychology of Adjustment was, as I anticipated, a useless affair, but I made myself swallow enough of it to make a first-class mark. The course involved the writing of a self-analysis, in the preparation of which I gave my imagination full rein; this delighted the marker, who gave me 80%. The Milton course was taught by a visiting Professor, Merritt Y. Hughes, a Miltonist who had edited with great care and outstanding scholarship the works of Milton. He was not an inspired or inspiring lecturer. His way of expounding the text was to deliver footnotes. However, he made us aware of the richness of Milton's language and learning. I was only sorry that the course was so hurried; there was little time to deal thoroughly with the multiplicity of ideas that arose out of the major works.
The session was satisfactorily concluded. I had now fulfilled all the requirements of the Honours degree, and could go to England, and the University of London where I had been accepted, with a clear conscience. I made preparations to join the family in Winnipeg. I went to the hospital to say goodbye to Sedgewick, said farewell to my parents, and off I went to be reunited with my children. When I reached Winnipeg, I found an item in the newspaper telling me that Sedgewick had died [on 4 September 1949]. It was a time of endings, some happy, others sad. I would miss him.

Audrey Hawthorn, anthropologist and museum curator
The following materials were supplied by Anne Piternick, Professor Emerita, School of Library, Archival, and Information Studies
Click here for the text.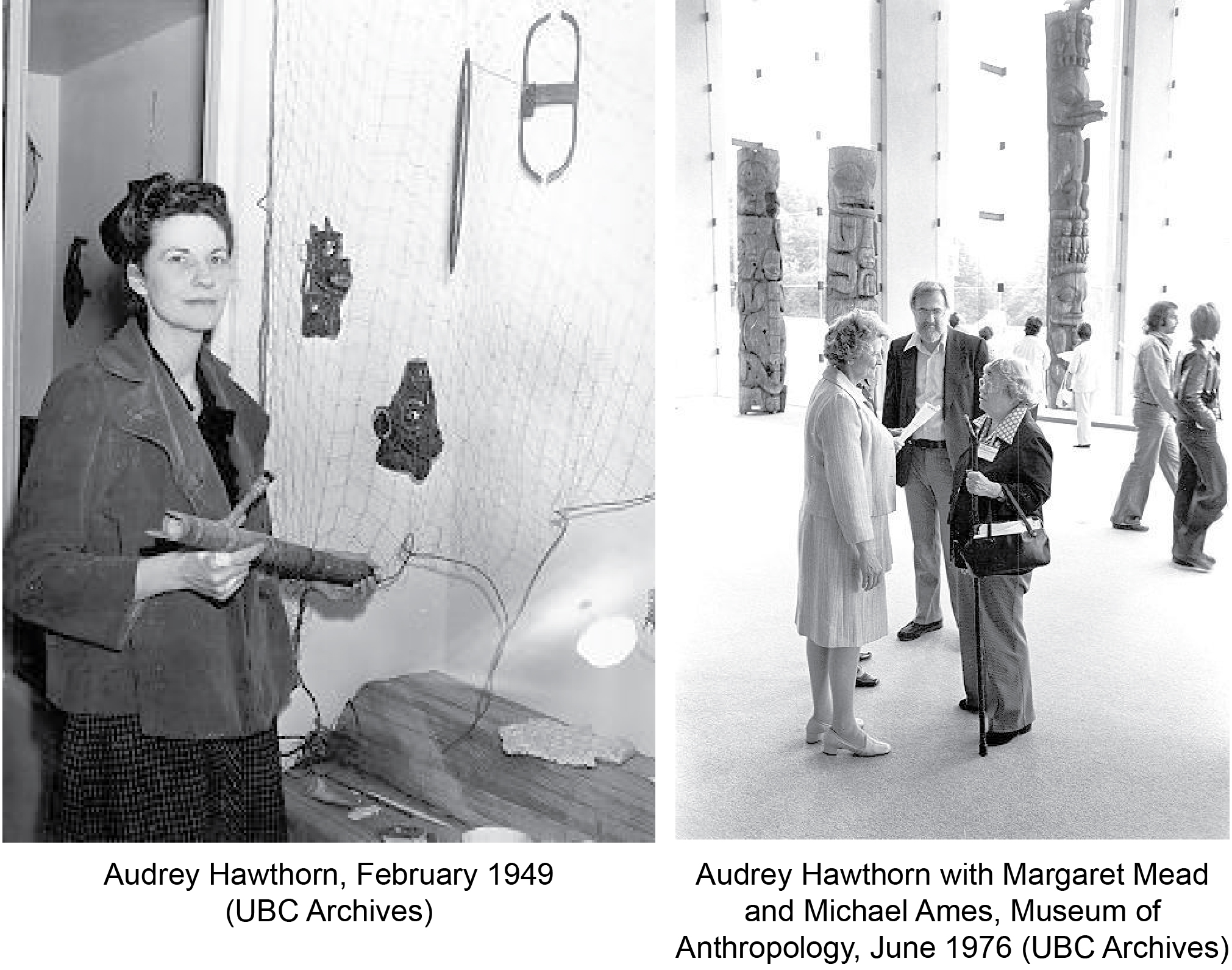 'The Bottle Saga' By Jan de Bruyn
I begin by admitting that I was not your typical professor. In the first place, I owe my profession to the war and a beneficent government. That in itself is a paradox – that something as evil and destructive as war should have proved to be the source of the greatest gift I ever received, my education. Be that as it may, I earned it by serving His Majesty for five years in the Canadian Army. Fortunately, I was never called upon to fire a shot in anger, My war was largely spent in pay offices. I was not a happy soldier, and was glad to return to civilian life. I considered I had wasted five years of my life, but the reward was four years of university, of reading and learning, of intellectual emancipation and the acquisition of a profession. I did well enough to be welcomed into the world of academe with a lectureship paying the princely sum of $2500.00 per session (that is, September to April). That sum proved to be inadequate to supply the needs of my family, which at that time consisted of a wife and two children. I augmented the income by teaching night school, taking on extra marking, devising and teaching an English course for the CGA which was beginning its existence through the Faculty of Commerce at UBC. It took about thirty years for academic salaries to become reasonable return for effort expended. That, however, is another story.
As I said before, I was not your typical academic. I preferred hanging out with students rather than colleagues. I preferred teaching to research; I would rather lecture than write critical articles; I guess I was somewhat of a maverick, but had a splendid time, and I did my job well, enjoying all of it except the marking of essays. The consequences of being "different" were not serious. I was well up in the salary scale a decade before I retired, and never missed getting the annual bonus for extraordinary service to students and university. However, I never published a major scholarly book. Mind you, I had written one, and converted a couple of students to my point of view with respect to Paradise Lost, but my thesis was too much for the thick-headed prejudices of centuries, so the MS lies moribund in my filing cabinet to this very day. I never made it to full professor!
Perhaps it is just as well, because my behaviour, in the latter years of my career was hardly professorial. I was in the habit of taking long walks as the form of exercise I needed. I had stopped smoking and gathered some weight as a result of the change in metabolism, so I took up walking as a serious daily duty. I noticed in my travels afoot that the environment was littered with stuff that should not be there, and some of it was in the form of beer and pop cans and bottles which were worth money. One had to pay a deposit on these items when one purchased them, precisely to encourage people to return them and avoid this messing up of the roadsides. I decided to become actively green by picking up bottles and cans whenever I came across them. For this purpose I normally had a couple of plastic bags in my pocket. I never returned without some goods I could convert into money.
It soon became an obsession, and I became more and more eager to find bottles and cans. As my walks turned into searches, I became aware of good places to go for loot. Sunday morning, for example, would find me scouring the lawns and borders at the student residences at UBC, and the frat houses where the Saturday night student excesses had left empties all over the place. Often, after such forays, my two plastic bags were inadequate to contain all the loot, and I would have to take home what I could manage and come back in the car to pick up the rest. Every once in a while I would have to take a load to the liquor store to cash in and clear out my premises. I kept track of the money I acquired in this way and put it aside. I was astonished to discover, at the end of my first beer-bottle-collecting year, that I had made $900.00. I gave it to the University Scholarship Fund, where it would be put to good use. I put the donation in my Income Tax Return. The end result of all that was that I had contributed to a neater environment, helped to recycle a lot of glass and aluminum, assisted some student with his expenses, and gained a reduction in my income tax.
Collecting dirty old beer bottles can hardly be considered a dignified occupation for a scholar. I continued, however, being aware of the many benefits this activity brought to the world. One Saturday I was out walking; for some now forgotten reason, I had my briefcase with me. At any rate, I was on my way home from somewhere, and part of my route took me along Angus Drive. This street is a fancy boulevard that goes through a posh residential area of Vancouver known as Shaughnessy Heights. The street is divided by a wide strip of lawn with flower beds and large rhododendron bushes growing in the centre. I had discovered in past explorations that some people, kids probably, had made shelters of these large shrubs, in which to hide and drink. The interior of these plants was like a tent; one could sit in there and drink beer, hang out, make love, and no-one would be the wiser. Naturally they became the depositories for empty beer bottles. On this particular day, I decided to plunge in under a few of these living hideaways, to see what I could find. I found about a dozen bottles (worth $1.20), and since I had no plastic bags with me, I put them in my briefcase. I emerged from the last of these shrubs and proceeded on my way with the loot. Several minutes later a police car passed and swerved into the curb just ahead of me. The policeman got out and approached me.. In the polite fashion of cops about to make an arrest, he asked me (sir!) to please show him the inside of my briefcase. Oh, oh, I thought, someone saw me from a window, and phoned the cops about this suspicious character going into the bushes on Angus Drive. Looked like a gangster; was carrying a battered briefcase, had a beard!
I responded to the policeman's request with elegant alacrity, taking care to keep my eyes on his face. I was rewarded by his gaping surprise when he saw what was there, my haul of empty, dirty beer bottles. Damn! Another false alarm. In spite of the fact that he had failed to find me guilty of any criminal activity, it all had to be noted in his little book: Name? Occupation? Professor? I could see his mind swirl with disbelief. However, our little encounter probably supplied him with a conversational gambit for decades to come, but I suspect he told his story without the delight it provides for me whenever I have the opportunity to recount it. Being an academic can be an exciting experience!
(As of May 2015, Jan de Bruyn, Associate Professor Emeritus, is 97 years old, and still writing.)

'Union College, 1965' by Robert Dunn
The Department of English accepted me in 1965 as a candidate for the M.A. and offered me a Teaching Assistantship at $1,200 per annum, without which I could not have come. In the event, I came by freighter from San Francisco, the Royal Mail Ship Loch Avon, which had six passenger cabins, modestly but handsomely furnished with oak panelling and brass fittings. Passengers dined with the ship's officers and cadets. The dining room and the lounge looked like they had been borrowed from an English Country House. All the other passengers were retired couples from the Okanagan returning home from "the old country". The food was plentiful and excellent, the passengers delightful, and the Captain very much in command. When the Pilot came aboard in Portland, eager to depart forthwith down the Columbia River, the Captain made him wait until he had finished entertaining a group of his passengers with a game at cards.
The voyage took ten days, calling also at Seattle, and was scheduled to arrive in Vancouver on September 3rd, but the Loch Avon had been held up at its pier next to the Ferry Building in San Francisco because all the stevedores had been seconded to Oakland, across the bay, to help load supply ships for Viet Nam. When it finally arrived September 6th, it was Labour Day, UBC was closed, and I had to stay the night in the Hotel Devonshire (now demolished). When I reported to the English Department next day, I learned that there was no accommodation available on campus. That night and possibly a second were spent, entirely alone, in one of the military barracks called, I think, Acadia Camp (now demolished), located somewhere in the general vicinity of what is now Regent College on campus. I remember there were metal bunk beds enough for perhaps forty or fifty men but I do not remember who issued me a mattress and bedding for that night unless it was David Macaree, a professor in the English Department, for it was he who very kindly put me on to Union College and saved me from a very distressing dilemma. The only room left at Union College was on top of the chapel, facing north, with an unobstructed panoramic view of the city, the north shore, Bowen Island and all of Howe Sound. It felt like deliverance. For three years I enjoyed the best view in town and probably the best location on campus. It was a five minute walk to the Buchanan Building.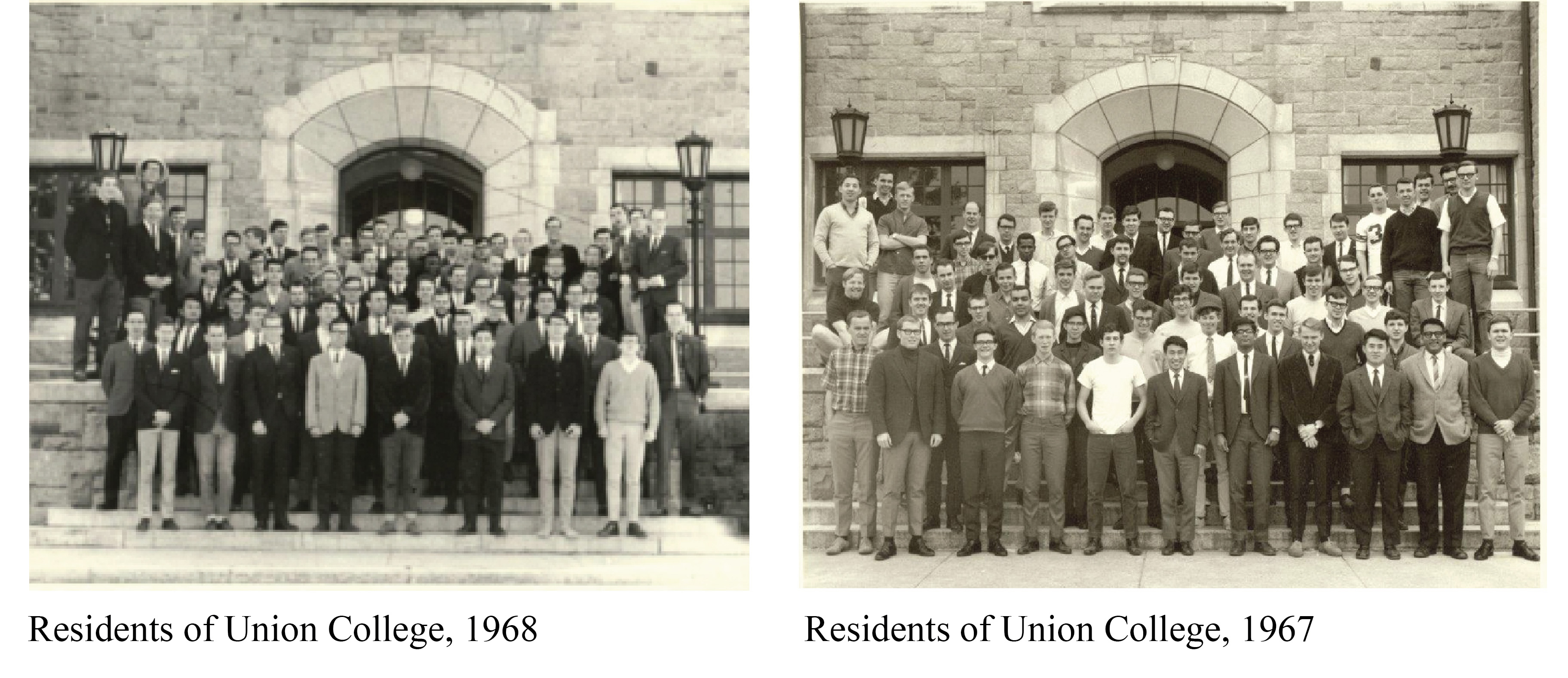 (The author is top row left, eye-glasses and necktie, both years)

Apart from me, there was only one other graduate student in Union College and he was the only unmarried theologian, thus ineligible for the College's married accommodation (now demolished). All the others in these two group photographs were among the 98 undergraduates in residence and none of them were reading theology. They were a very jolly bunch, notwithstanding the night that they abducted me and about four other newbies and deposited us with nothing but sheets for clothing in the middle of Stanley Park. Happily (and probably by alert) we were soon collected by the RCMP and delivered back to the College, a little chilly but none the worse.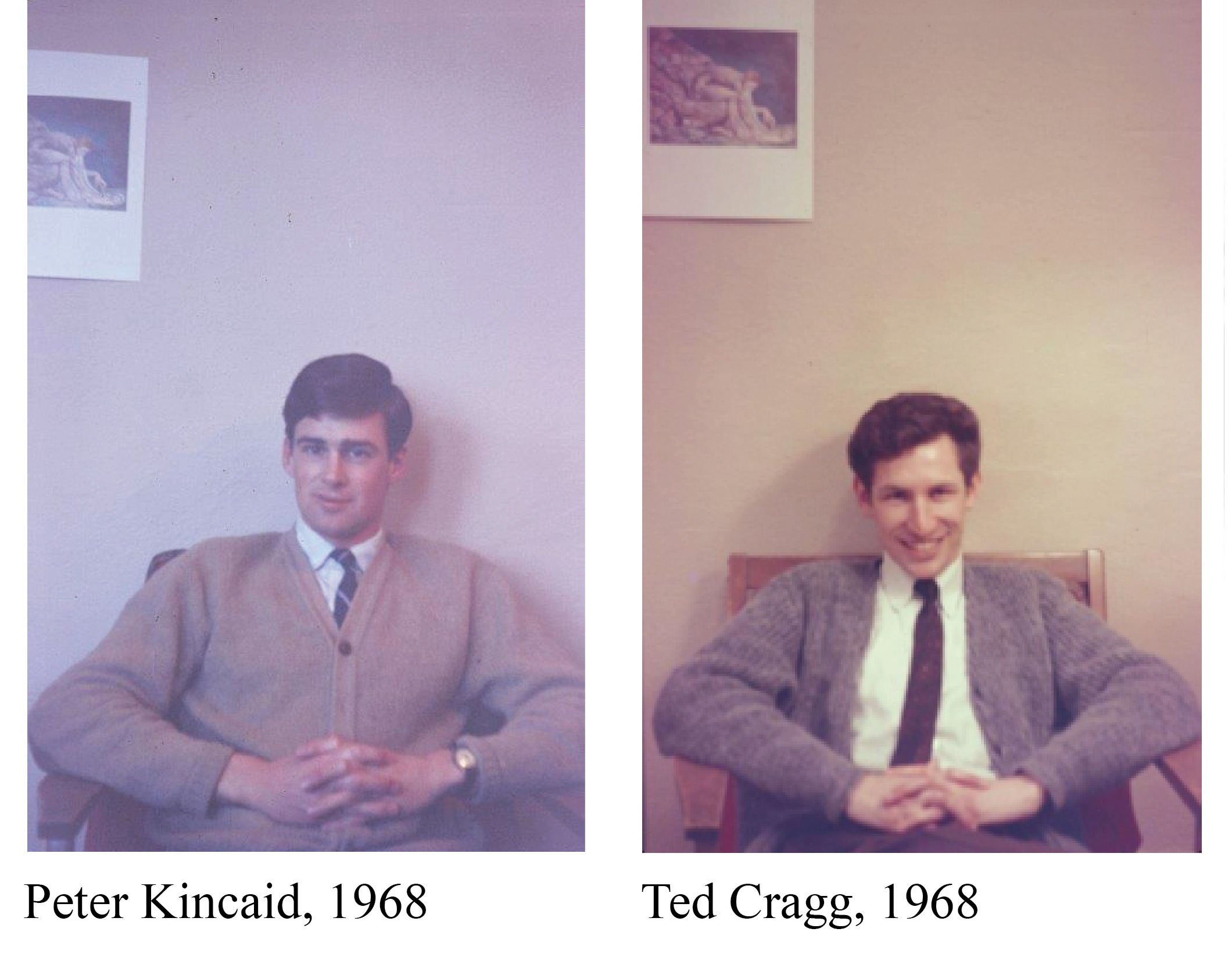 Requirements for the M.A. in English were rigorous, not to say gruelling. The reading list for the Comprehensive Examination stretched from Geoffrey Chaucer to William Faulkner; likewise the daunting graduate seminar requirements, but the most gruelling of all was preparation for the Final Examination in Bibliography. It was said that so many candidates had failed that exam the previous year under Professor William Fredeman that he was encouraged to go on leave. If we thought his successor, Professor Tony Lavin, would prove less demanding, we were wrong. And then there was the thesis requirement, for which, again, I was lucky in having Roy Daniells for supervisor and, in his absence, Jan de Bruyn. In short, it was an intensely rigorous course of study and an intensely enriching experience which left me well prepared for what lay ahead.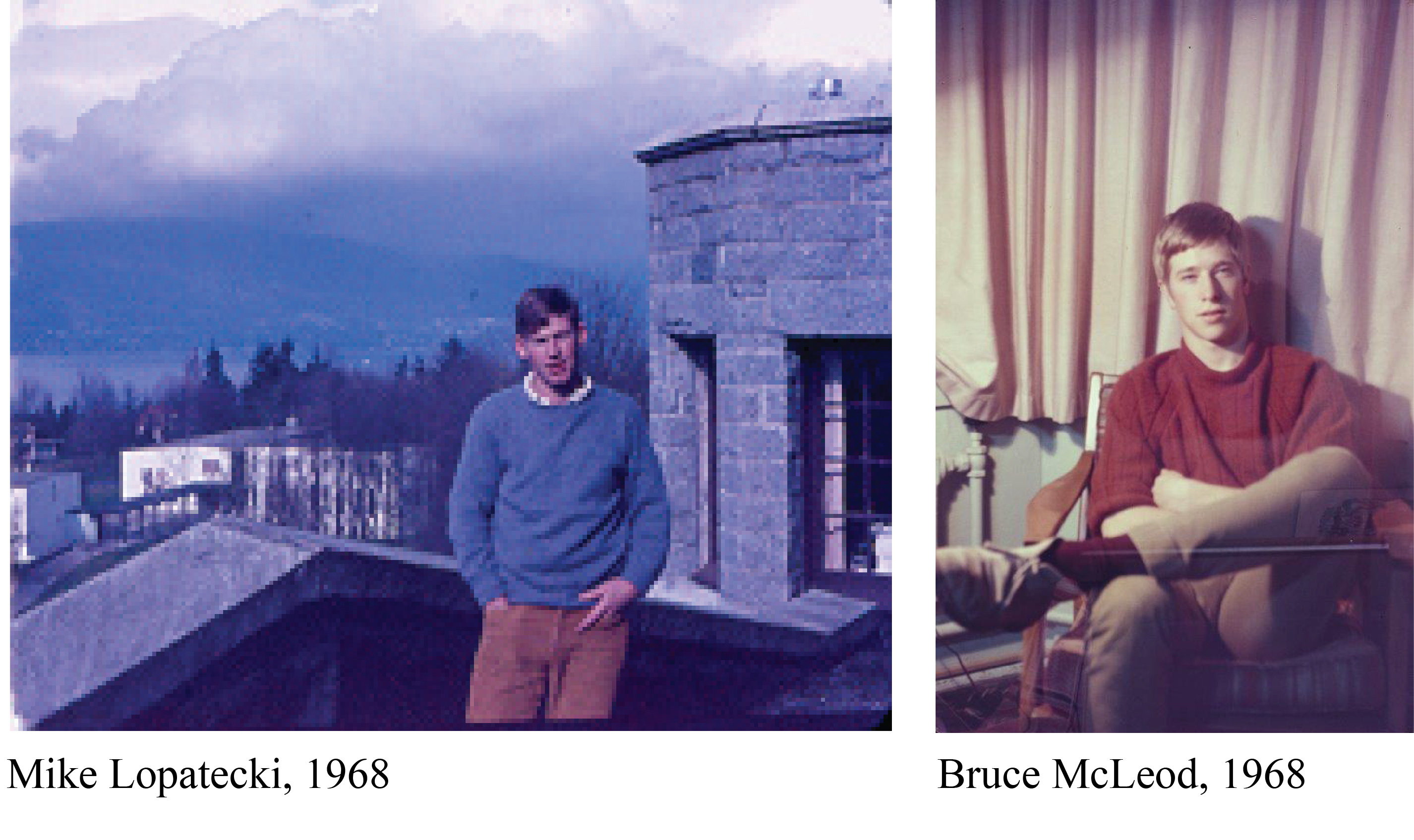 My experience in the English Department was intellectually invigorating and access to the splendid Graduate Student Centre (another gift of the Koerners, which always had a log or two burning in the fireplace at coffee breaks in the morning) was greatly appreciated by all, but without the warm, welcoming comfort of Union College, my UBC experience would have been so much less enjoyable. It was not just another student residence. It was not just the conviviality, the congeniality, the delicious three meals a day in the refectory six days a week, it was the sense of collegiality, the all-male fellowship, the sense of belonging to something rather special. In my final year, 1967-1968, with a newly-minted  M.A. in my pocket, I was kept on as a part-time Lecturer in the English Department, and at Union College I was promoted to a Donship and given an even more splendid room with the same breath-taking view but with the added, supreme luxury of a private bathroom, with a full size bathing tub. Deliverance, indeed.

With such remembrance of things past, with so much sentimental baggage of happy memories and enjoyable experience, it was a shock some years ago to watch Union College, by then joined with the Anglican College (now demolished) and renamed as the Vancouver School of Theology, being gutted and, still more recently, being divested of the faculty for which it was built. Still, the building remains, albeit with an ugly carbuncle added to each side of the once slender, elegant and symmetrical tower. Still, even in its present state, it remains always to remind me of that golden
and formative period of my life.
Robert Dunn, M.A., 1967
Pictures reproduced by permission of
Dr. Robert Dunn.
NB: The Iona Building now (2016) houses the Vancouver School of Economics.

'Some Landmark Events in UBC Athletics over the past 100 years' by Fred Hume
As of 2013 UBC is the leader among Canadian university team sports in the number of national championships won with 116, beginning with UBC's first Canadian title won in 1931.
UBC is a unique institution in that it has official permission, granted by the West Coast native people, to use the Thunderbird name. This permission and a gift of a totem pole was received in the fall of 1948 with the power of the mythical Thunderbird seen as synonymous with that of UBC teams.
The concept of the National team in Canadian ice hockey was initiated at UBC through St. Marks' Father David Bauer and his 1964 Olympic team made up of players attending university, in this case UBC.
The concept of National Championships for Canadian university women was first established in 1970 through the persistent work of UBC's Director of Women's Athletics, Marilyn Pomfret.
Sports Medicine in Canada has its origins at UBC through UBC graduate in medicine, Dr. Doug Clement, Olympian, coach and educator. He with his team initiated the concept in large part through his being a protégé of Oregon's Bill Bowerman, the North American pioneer in this field.
UBC's men's volleyball team won Canada's first university volleyball championship in 1967; then, with its World Student Games experience in Japan, brought back to Canada the revolutionary Asian style of volleyball, re-inventing the way the game is played in North America .
The sport of men's field hockey, dominated by UBC during the 1960s and 1970s, was permanently included as an Olympic sport in large part though the work of former UBC athlete and Geology professor, Harry Warren. Warren's son Victor of UBC was a star on the first Canadian Olympic field hockey team in 1964.
Through the ingenuity and fundraising efforts of UBC's women's field hockey team and its coach May Brown, Canada, represented by BC, sent its first National team to the Women's World Field Hockey Championship in Australia in 1956.
December 25, 1920 turned out to be a historic day in the annals of UBC as this young, small university scored a totally unexpected rugby victory over US champion Stanford. From this victory emanated a sense of UBC pride, spirit and identity. This game is acknowledged as the moment UBC students and faculty – the university – "found herself."
UBC boasts being Canada's only university to have produced a major league baseball player – a product of the Thunderbird baseball program under coach Terry McKaig. Jeff Francis has had an impressive major league career, mainly with the Colorado Rockies (2004-2010).
As of 2013 UBC can claim an impressive 228 Olympians (who were members of the university's Varsity athletic teams.) Since the first UBC Olympian, track star Harry Warren in 1928, Varsity athletes have won 59 medals including 18 gold.
In December 1973 the UBC men's ice hockey team becomes the first hockey team from the West to travel to China. Organized by the Department of External Affairs, this tour was designed as a cultural exchange stressing friendship and the teaching of hockey. This team could be considered a pioneer in the sharing of respective cultures in the formative days of diplomatic relations between East and West.
In the summer of 1954, UBC's eights rowing crew won Canada's first-ever Commonwealth Games gold in rowing and were invited by Prince Philip to compete the next year at Henley, where they finished second. In 1956 the UBC four-oared crew won Canada's first Olympic rowing gold medal at the Melbourne Olympics.
September 8, 1930, UBC's women's basketball team representing North America won the World Championships at the 1930 Women's Olympiad at Prague. The UBC women defeated the European champions France 18 – 14 before 10,000 fans to become the "toast of Europe."
The UBC men's basketball team represented Canada at the 1948 London Olympics. The Bob Osborne- coached Thunderbirds had won the nation-wide team qualifying tournament for the right to represent Canada. These Olympics would have also seen UBC's top sprinter John Turner compete, but alas he was injured. He did go on to a Rhodes Scholarship and political fame.
In 1945/46 UBC became the first university in Western Canada to establish a degree program in Physical Education (now Kinesiology). Inspired by former UBC athlete Maury Van Vliet, the program was implemented and directed for 33 years by Robert Osborne.
By the summer of 2004 UBC had firmly established itself as the national leader in women's university sport. During 03/04 UBC women won six national university championships a new Canadian record for a single season. The six women's titles were field hockey, soccer, swimming, rowing, basketball, and golf.
As of 2015, UBC's football program has produced 123 players who have played games in the professional Canadian Football League (CFL). This list also includes one player who played in the NFL and two who are inductees in the Canadian Football Hall of Fame.
In November 1927 UBC's football team competed in the playoffs for the Grey Cup. As provincial champions, UBC faced the prairie champion Saskatchewan Roughriders for the right to represent the West in the Grey Cup game in Toronto. Despite a valiant effort Varsity went down to defeat in a two-game total-point series. This was the one and only time UBC would have this opportunity to compete for Canada's top football prize, now itself just over 100 years old.
During the first decade of the 2000s UBC completely dominated Canadian university swimming setting a Canadian record of 12 consecutive national titles. As of 2013 UBC Swimming held the Canadian all-sport record of 21 national titles, the first being won in 1964/65.
Two prominent UBC educators, Dean of Pharmacy "Whit" Matthews and Physical Education director Bob Osborne were the two principal "founding fathers" of what was known as the CIAU – now CIS – our national university league. These two ushered in this new league in June 1961.
For more information about events and personalities in UBC sports history, go to the UBC Sports Hall of Fame at http://www.ubcsportshalloffame.com/docs/aboutus/index.html .
Fred Hume is UBC Sports Historian and a member of the UBC Sports Hall of Fame.

'The Blue & Gold Finds Herself' By Fred Hume

Trading, at least to me, is an essential part of collecting, whether in postcards, baseball cards or any of the many collectibles with which we might find ourselves engaged. There is a feeling of accomplishment when both parties walk away happy. So it was in one of these mutually satisfactory trading sessions with a fellow postcard collector that a card became available which both surprised and delighted me.
A quick inspection of this card revealed that it was a photograph of a rugby team; not just any team, but rather a very special UBC rugby team. This happened to be the 1920/21 squad whose story I knew from my research at UBC – a story that could even be considered historic in the annals of the Point Grey university. As mentioned, I was surprised and delighted, surprised in that I did not know such a card existed and delighted in that through a trade I was able to acquire this rare piece and the cachet that went with it.
The team on the card was photographed at a time when the UBC campus was situated not at Point Grey but in Fairview near VGH, the 12th and Cambie area. Postwar UBC was still in its formative stages, only in its sixth year of operation with an enrollment of approximately 1500 students. Yet it had a fairly robust sports program which featured an accomplished rugby team captained and coached by Art Lord (standing at left), a student who had returned from service in World War 1 and who would later become a revered judge.
The previous year, UBC rugby had commenced what would be a long-standing rivalry with Stanford University, the pride of US west coast rugby. This would be a bit of a David and Goliath situation in that Stanford was far larger, older, and more established than its young cousin to the north. To make it even more daunting, in this year of 1920, Stanford was particularly formidable – defending US rugby champions with nine players selected to play for the US Olympic rugby team, a team that won gold!
So, December 25th 1920, Christmas Day no less, UBC, the provincial champion, was set to host the Cardinals of Stanford at Stanley Park's Brockton Oval. The stands were packed, Blue & Gold everywhere, ribbons and streamers flowing in the breeze. "Never before has so much interest and attention been aroused in the student body . . . " gushed campus media. The betting, however, was heavily in favour of the Californians.
The UBC Totem annual would report that what was about to happen was not just because this UBC rugby team stepped on to the field prepared to play the game of their lives; rather, it was "the backing and intense desire to win burning in the breast " of every one of the 800 students filling Brockton Oval. "We couldn't lose, glancing toward the packed stands resplendent in the clearly beloved Blue & Gold . . . a strange thrill of power and surge of wild joy . . . UBC could not go down to defeat that day." In fact UBC outplayed its heavier opponents and outscored them 12 – 0 before the record rugby crowd – frenzied fans witnessing what many thought to be impossible, who at game's end erupted. "With that last shrill blast the Varsity rooters went crazy and swarmed out over the field . . . round the track went the joyous, madly happy mob of students. Staid professors vied with the newest freshmen in wild outburst," on this crisp Christmas Day.
Apparently that intangible something called spirit materialized for UBC, an emotion created by the team captured on this postcard. Even the Vancouver Sun was caught up in this magic moment, stating " . . . hundreds of fans and UBC students swarmed upon the field lifting the players high above the throng, staged serpentine parades and danced and sang to a whisper. It was absolutely wonderful."
In these early days of UBC the victory gave the school something to be proud of – the start of a tradition. It no longer doubted itself. In those two 45 minute halves the students learned about morale, esprit de corps and college spirit, qualities without which a university exists in name alone.
"As the December evening closed in," continued the Totem, "the happy crowd wended its way homeward, secure in the knowledge of a University which had won a game, won a spirit and found herself."
And thanks to a little trading with a fellow collector, I am grateful not only for this prized addition to my collection but for the joy that goes with relating the story behind the image.

.
'Exploring the History of Interdisciplinarity  at the University of British Columbia' By Kersti Krug
Click the following link to open the story as a PDF:
Exploring the History of Interdisciplinarity at UBC – 6July16

The piece that follows was originally published in 2008, at the time of the centennial of the first University Act that created UBC.
'Campus Food Outlets: The Bus Stop' by Herbert Rosengarten:

It was good to see the Globe praising the quality of food at UBC's Place Vanier residence recently (11 June 2008); as the writer of the article noted,
undergraduate dining has "long [been] associated with lining up at a cafeteria trough."  That set me thinking about my own food experiences at UBC.  I arrived here in 1965, and very quickly my favourite eating place became the Bus Stop Café, a cafeteria that sat on a site now occupied by Trek Express and 99 Chairs [later to become Tim Hortons and Triple O's].
Its name came from the first campus bus stop, a large shelter that was built in the late nineteen-twenties on the west side of Main Mall across from the Science Building (today occupied by Chemistry).
In 1945 the shelter was raised to snack bar status, with room for about sixty customers, to relieve the congestion in the "Caf" (the cafeteria under the Auditorium) caused by the increasing numbers of returning war vets.  By the time I arrived in the mid-sixties, however, the shelter/sandwich bar had disappeared; in its place, a few yards back from the Mall, stood its successor, the Bus Stop Café, erected in 1955-56 as part of a long, low building that included the Post Office and the University Bookstore, both rescued from a less desirable existence in huts.
Buses continued to stop outside the Café until about 1962, when a new traffic plan closed Main Mall to cars and buses, leaving UBC, in the words of the Ubyssey, "the only university in the world that has a bus stop without buses" (September 11, 1962, p.1).  But the café kept its name, and continued to serve the UBC community until it was closed in 1990 to make way for the David Lam Management Research Centre and the eating places currently occupying the ground floor of that building.
The Bus Stop Café was hardly the most stylish eatery on campus; "cheap and cheerful" best describes it.  One half was occupied by a crowded collection of small tables with plastic table-cloths; the other half was made up of bar-like counters arranged in square "u"s.  Behind the counters, the servers worked in a kind of sunken pit, and from a distance it appeared as though the customers were being attended by a host of little people.  The place was always packed, and no wonder: the food was unpretentious but edible, the service was friendly and fast, and the price was right.  Whether they came from Newcastle or Nanking, all the servers were called Doris (at least, that's how I remember them), and they were unfailingly cheerful and patient.
When news first broke in 1987 that the Café was to be demolished to make way for a new Commerce building, anguished customers got up petitions and wrote despairing letters to the student newspaper, but to no avail: the heartless Administration lived up to its reputation of being—well, heartless.
Today [2008], in place of the Bus Stop Café we have a would-be sports bar and a fast-food outlet; serviceable, no doubt, but lacking the kind of
intimacy and slightly run-down quality that often characterize favourite student haunts.  Outside, on the spot where the original Bus Stop sat, there's another shelter, vaguely reminiscent of its predecessor, but now protecting only soft drink machines and an ATM.  Sic transit gloria mundi….
[NB: The covered drink dispensary outside the David Lam Library (see photo below) disappeared in the course of the facelift given to Main Mall in 2012.]

'Dickens of the Mounted: An Astounding Tale' By Herbert Rosengarten
In 1989 the UBC Library was at the centre of a remarkable discovery: a cache of letters by Francis Dickens, the third son and fifth child of the writer Charles Dickens and his wife Catherine Hogarth.  The letters, whose existence was unknown until this unexpected find, were evidently part of a bequest to the Library, and emerged in the course of a routine sorting and cataloguing process.
Francis Dickens has little claim to fame beyond his celebrated parentage, having failed at most ventures he attempted.  The Canadian Encyclopedia sums up his life with brutal brevity: "His unspectacular career was marked by recklessness, laziness and heavy drinking…."(http://www.thecanadianencyclopedia.ca/en/article/francis-dickens/).
He did, however, play a role in Canadian history that merits some attention: from 1874 to 1886, he served in the Northwest Mounted Police, and was the officer in charge of Fort Pitt on the North Saskatchewan River during the Northwest Rebellion of 1885.
In April 1885, following their success in overrunning the village of Frog Lake, a force of 250 Cree warriors led by Chief Big Bear moved on to threaten Fort Pitt, a trading post protected by 23 members of the NWMP. After an initial skirmish in which one of his men died and another was captured, Dickens withdrew his men, leaving civilian settlers behind as hostages, and retreated to Battleford.  Given that he was facing overwhelming odds, Dickens had little choice, and he was commended for his actions.
The story of Fort Pitt, and of Francis Dickens' otherwise unmemorable career, is told in detail in his letters found at UBC , all written to members of the Butts family, who owned a public house Francis had evidently frequented when living in London.  The task of editing them for publication fell to Vancouver author Eric Nicol, a graduate of UBC and at one time a lecturer in the English Department.  Dickens of the Mounted: The Astounding Long-lost Letters of Inspector F. Dickens NWMP, 1874-1886 was published by McLelland and Stewart and first reviewed by the Globe and Mail on April 1, 1989.
The letters won praise for the vivid picture they gave of life in Canada at a particularly fraught time in its history, as well as the insights they provided into the character of Francis Dickens, about whom very little is known.  However, as readers familiar with Eric Nicol's other writings will have guessed, the real author of the letters was Nicol himself, whose re-creation of life on the Canadian frontier, while based on historical fact, is a wry and amusing imagining of what Francis Dickens must have encountered in his ill-suited role as a police officer.  At the time of the book's publication, Eric Nicol had established himself as a leading Canadian humorist, having won the Stephen Leacock Medal for Humour three times. UBC alumni would also have recalled that in his student days Eric Nicol had been a long-time contributor of humorous columns to the Ubyssey  under the pseudonym of "Jabez."
The book has all the trappings of a serious scholarly enterprise: an earnest preface, footnotes, and appendices; and Nicol blends fact and fiction very effectively, so that even the wary reader may be caught off guard—only a Vancouver reader might wonder about the passing reference to the Dickens biographers Hastings and Main.  Other clues are perhaps more obvious, such as Francis' account of his meeting with Sitting Bull, who asked him to autograph a copy of Oliver Twist; or his conversation with Major Harry Flashman, hero of the many exploits recounted by novelist George MacDonald Fraser.
In his preface Nicol quite properly thanks the many people who assisted him in his endeavours, including Charles Forbes, then the Colbeck Librarian; George Brandak, Manuscript Curator in Special Collections; and Basil Stuart-Stubbs, Director of the School of Library, Archival, and Information Studies at UBC. What follows is George Brandak's account of how Francis Dickens's letters were presented to the world, and how they were received.
Frances Woodward wrote me that you wanted more information about Eric Nicol's hoax in pretending that the long-lost letters of Dickens of the Mounted were the letters of Francis Dickens and not written creatively by himself.
The book jacket includes a photograph of Eric Nicol in the Special Collections Division of the UBC Library looking at a folder of letters that were apparently written by Francis Dickens.  I gave him a box and folder of letters inserted into mylar that could be assumed to be those of Francis Dickens. Somewhere else there is a photograph of Eric and I looking at the letters.  I did play along with his joke.  I assumed that people, as they glanced at the letters [reproduced] on the book jacket, would realize  they were the creative work of Eric Nicol.  The first line of the book jacket, "It was not the best of times, it was not the worst of times, it was Ottawa," and the sentence that follows on the jacket—"These words, which open this book, could come from only one pen– that of a Canadian Dickens"—should have given away the fact that the book was fiction.
But it did not.  Two days after the Toronto Globe and Mail did a review of the book on April Fool's Day, I received a phone call from a Winnipeg institution asking to visit us to see the letters.  I asked the caller on what day the review was printed, and he said, "Oh my God."  A secretary from RCMP headquarters in Ottawa phoned and said her boss had told her to read Dickens of the Mounted because it embodied the spirit of the RCMP much better than any other histories and she wondered whether it was true or not.  I assured her that it was fiction and she said, "That is what I thought, but I won't tell my boss."  As late as 1996, seven years after the book was published, I was drafting responses for the University Librarian who was replying to requests as to the authenticity of Eric's novel.  One person even wanted the UBC Library to re-imburse him for the cost of the book as he purchased it assuming it was fact not fiction because the authentic letters were in the UBC Library.  Carolyn J. Moss also wrote the Library to find out whether or not it was a hoax and then wrote a book review on Dickens of the Mounted in the Dickensian, Winter
1997, No.443 Vol. 93 Part 3.
To conclude, Eric wrote me an interesting letter in 1991:  "Okay, okay–why didn't you stop me, when we had the chance?  Oh no, you had to let me blunder into that dreadful hoax.  Frank Dickens now haunts me, nightly, like Morley's ghost to giggle and stammer "Th-th-th-anks, Nick, for the f-f-f-avour."  Miserable little twerp.  Ultimately Francis Dickens will get all the credit for the bloody letters he never wrote, never could have written, the silly ass.  Aside from that, I wish you a happy Christmas.   Eric."
(From an email to Eric Damer and Herbert Rosengarten, February 8, 2007)
The Dickensian review to which George refers, written by Carolyn J. Moss and Sidney P. Moss, gives a favourable account of the book's revelation of the "rich inner and outer life one would not imagined Frank to have had," but then reveals that the letters are a hoax—albeit a brilliant one, thanks to their success in capturing the life of the Mounties and the idiosyncrasies of Francis Dickens. Indeed, the reviewers describe it as "one of the finest hoaxes of the century." In the same vein, William French in the Globe and Mail (October 14, 1989) felt it would serve Nicol right "if Francis Dickens is awarded a posthumous Leacock Humour Award for 1989."  Regrettably, that didn't happen.

'When the Emperor Came To Lunch' by Herbert Rosengarten
On April 26, 1967, Haile Selassie, Lion of Judah and Emperor of Ethiopia, arrived in Vancouver en route to Montreal and Expo.  He was greeted by civil dignitaries, then whisked off to lunch at the UBC Faculty Club.  I was working in my office in the Buchanan Building that morning; somehow, perhaps from a local news outlet, I heard that the Emperor was coming to campus at lunchtime, so I grabbed my camera and hurried over to the Club.  There was a large black limo outside the entrance, with a driver and a Mountie, but there was no crowd to welcome our visitor; indeed, I think I was the only person in the parking lot.  I didn't have to wait long: a large group tumbled out of the building—security people, various big-wigs, mostly tall men in dark suits almost obscuring the small figure of the Emperor.  I stood on the far side of the limo, and took four or five snapshots; no-one stopped me, or asked for my credentials, or told me to step away from the car; but of course the world was a rather different place almost half a century ago….
In the pictures Haile Selassie can be seen with UBC President John B. Macdonald and UBC Chancellor John Buchanan.

'Teaching in the Field' by Olav Slaymaker
The Department of Geography at UBC has a strong reputation as a conscientious teaching department. This reputation was established by the founding Head of Department, the late Professor J. L. Robinson, who was himself a Master Teacher. When I joined the department in 1968, I was surprised to find that there was no undergraduate teaching conducted in the "field"; all truth was communicated within the closed walls of the classroom. My first initiative, that the department should purchase a vehicle to facilitate field teaching, was defeated in solemn departmental conclave by a vote of 15 to 1 with no abstentions. Six months later, the purchase of a "yellow peril" was approved unanimously and twelve months after the idea had been defeated, I was taking groups of ten students at a time out from the classroom and into British Columbia's magnificent outdoors. Evidently, absolutely anything and everything was possible in this New World.
Geographers "bodily enter the field of their enquiry" (Baker, 2004) in order to observe. A critical part of geographical interpretation of landscape is that of "observation" (Powell, 2002). We have a direct interest in an aesthetic (the Romantic ideal) and in its indirect association with measurement (the Enlightenment imperative). In the image above a group of undergraduate students is being invited to create order out of a wild landscape. Some are overwhelmed by its pristine beauty; others cannot wait to be informed on how this complex sub-alpine ecotone is organized and sustained. These questions are arid and almost meaningless in the classroom, except under the guidance of a charismatic teacher. In the field, such questions come alive even under the leadership of an averagely competent teacher. If you are fortunate enough to have a charismatic teacher interpreting landscape in the field, the undergraduate teaching experience can be life-changing. Many of my most satisfying teaching experiences at UBC have been "in the field".
References
Baker, V., 2004. Fieldwork. In: Harrison, S. et al., eds.,Patterned Ground. Reaktion Books, London, p.136-137.
Powell, R.C., 2002. The Siren's voices? Field practice and dialogue in geography. Area, v.34, p.261-272

'Dr. James E. Birren at UBC' by James Thornton
In 1976-77 a sequence of adult education courses and seminars was proposed for a Master's Degree (MEd of MA) in Educational Gerontology, which was approved by Graduate Studies in 1978. To launch this new program, Dr. William Griffith, Department Head, Adult Education, suggested that I contact Dr. James E. Birren as a possible nominee for a Cecil and Ida Green Visiting Professorship.
I called Dr. Birren, Dean of the Leonard Davis School of Gerontology, Ethel Percy Andrus Gerontology Center, University of Southern California and introduced myself. After a brief social chat outlining the department's interests in education and gerontology, I asked: "If we submitted your name for the Cecil and Ida Green Visiting Professorship – would that be OK and would you accept and come to UBC?" Dr. Birren agreed with a provision that Betty Birren be included in the submission.
"Dr. James E. Birren and Mrs. Betty Birren" nomination was submitted for the Cecil and Ida Green Visiting Professorship, Summer 1979; it was awarded. Also, Dr. Robert Havighurst, Committee on Human Development, University of Chicago, was invited to offer a 1979 Summer Seminar on Older Adult Education, inaugurating a graduate program in educational gerontology that would evolve over the next ten years into a series of seminars, summer institutes and conferences.
Several years later, I asked Jim Birren: "Why did it seem so easy then (1979) to get you nominated and for you to accept the Cecil and Ida Green Visiting Professorship?"  Birren said that it wasn't his first visit to UBC as in the mid-1960s he was a possible candidate for Head, Department of Psychology. At the same time he was considering an appointment at the University of Southern California and the establishment of the Ethel Percy Andrus Gerontology Center.
Following that visit in 1979, James and Betty Birren were involved in several major events that brought them to UBC, resulting in a major symposium, several conferences, and publications resulting from these activities. In the chronology that follows, the Education and Aging Symposium, Andrew Norman Institute at USC in 1984-85 is included as it was vital to the development of the Educational Gerontology graduate studies in Adult Education at UBC and the the Educational Gerontology Division of the Canadian Association of Gerontology.
CHRONOLOGY 
1978-1979.  Cecil and Ida Green Visiting Professorship, University of British Columbia. Lecture Series on Adult Development and Aging.
1982. Metaphors of Aging in the Social Sciences and Humanities: An International Symposium [Funded by SSHRC], University of BC. Ideas from papers presented and explored at this Symposium are found in Metaphors of Aging in Science and the Humanities, edited by Gary M. Kenyon, James E. Birren, and Johannes J. F. Schroots. Springer, 1991.
1983. Summer Institute in Gerontology: Guided Autobiography Seminar with Jim and Betty Birren.
1984-1985.   Education and Aging, Seminar at USC, Andrus Gerontology Center. The seminar resulted in the book Education and Aging, edited by David A. Peterson, James E. Thornton and James E.   Birren. Prentice Hall, 1986.
1984. Ethics and Aging Symposium and Conference. Papers presented at this Symposium were published: Ethics and Aging: The Right to Live, The Right to Die. Edited by James E. Thornton and Earl Winkler, UBC Press, 1988. This conference was organized with the assistance of Dr. Birren.
1984.   A Report to the Universities Council of B.C. on Activities in Gerontology at the Three Universities (UBC, SFU, UVic). Submitted by Dr. James E. Birren with assistance of Candace Stacey.
1987.   Gerontology Lecture by James E. Birren: What is Happening to Gerontology in 1987 of interest to Education. Adult Education Research Centre.
1989. Inaugurating the Educational Gerontology Interest Group, Canadian Association on Aging. This initiative began in CAG's annual conferences during 1980s with an interest group of about 30 formed in 1988. As head of that group, I submitted James Birren nomination for a CAG Award in 1989 for his contributions to gerontology in Canada. Birren's Certificate Award details the contributions he has made to the study of aging in Canada, and his involvement at many Canadian universities.   The award was presented at the 1989 CAG meeting in Victoria BC. Jim and Betty Birren visited UBC several days before the conference anticipating a presentation to the Association of Professors Emeriti, UBC. The Educational Interest Group organized a luncheon at which James Birren was featured speaker. Over 200 people attended.  The Division of Educational Gerontology in the Canadian Association of Gerontology was formally established in 1992.

'How Astronomy Made Its Name at UBC – Pre-1980 Reminiscences' By Gordon Walker

Thirty years ago the UBC Institute of Astronomy and Space Science (IASS) boasted more than twenty associated faculty members from across campus. The Institute was formed in 1970 to fulfill two critical
functions. The first, to administer a three year Negotiated Development Grant (NDG) from the National Research Council "for research in astronomy and astrophysics." The second, to provide a continuing forum for the astronomers who were split mostly between Physics and Geophysics. The Geophysicists had separated into the Department of Geophysics in 1963.
As far as I am aware, the only explicit astronomy content in UBC courses prior to 1965 was included in an introductory Geology course given by Valdimir Okulitch and by Jack Jacobs, Head of Geophysics, who developed Gepa 310, a highly successful introductory Geophysics course for non-science students. George Volkoff, whose theoretical work on neutron stars later assumed so much importance with the discovery of pulsars, appointed Bill Shuter in Physics in 1965 and Jim Gower in 1967, both Radio Astronomers. In 1966, one year after Bill's appointment, Okulitch, by then Dean of Science, appointed Michael Ovenden as a Professor of Astronomy in Geophysics. Okulitch hoped this would blossom into an astronomy department to complement the Queen Elizabeth II (QEII) 4-m optical telescope then being constructed in the Okanagan. Michael began to develop an undergraduate astronomy program which evolved into joint major and honours programs with Physics and, like Bill Shuter, he attracted graduate students into a nascent graduate program. Jean Petrie joined Geophysics in 1967 as the first of many distinguished part-time lecturers to teach the science (Astr200) and non-science (Gepa310) introductory courses. Jason Auman and I were appointed in 1968 and 1969, respectively. We were all housed in the Hennings Penthouse.
In the 1960's NRC was the University research funding agency. In a marriage of convenience, Michael joined Bill Shuter and Roy Nodwell in 1967 to apply for an NDG split between Radio Astronomy, Laboratory Astrophysics and Optical Astronomy. At that time there was little common ground between optical and radio astronomy – low frequency radio antennas were sensitive to non-thermal emission and at 21 cm pencil beam instruments could detect neutral Hydrogen – both invisible targets in the optical spectrum except for non-thermal emission for a few recent super nova remnants. Optical astronomers still used highly inefficient photographic emulsions and were largely preoccupied with stars. Sputnik and the Palomar 200 inch telescope discovery of quasars finally galvanised optical astronomers.
The Federal Government had given the go ahead for the QEII in 1964 but the site in the Okanagan turned out to be unsuitable and an invitation from the Americans to join with them instead in a large telescope in Chile precipitated an unfortunate public spat between certain Ontario astronomers and some in the west which led the Government to suspend work on the QEII. The UBC architects did not help by turning down the proposed building design for the mirror polishing shop. The latter was ultimately constructed at the Dominion Astrophysical Observatory in Victoria where the primary of the Canada-France-Hawaii telescope was eventually polished.
These developments forced a revision to the UBC NDG proposal and a resubmission in 1968 but NRC deferred a decision until the smoke cleared on the national astronomy scene. To cut a (very) long story short, in April 1970 NRC agreed to award UBC all of the funds asked for, $538,600. I still consider this remarkable given the equivalent in today's $s. George Volkoff was very active in NRC at that time and I am sure we owe a lot to his influence. The funds were released on the understanding that UBC would give top priority to continuing a number of positions made under the grant. UBC provided a budget for the IASS, half secretarial position, a full-time technician and half of the Director's salary.
Such wealth beyond avarice allowed the three areas of astronomy to flourish as well as initiating a regular seminar series and specialised meetings. Bill Shuter's group erected a 15 foot dish antenna and receivers for millimetre observations on the South Campus, detecting their first solar signals at 40 G Hz in 1972 and CO near 110 G Hz in the Orion Nebula in 1973. Jim Gower left in 1972 and Phil Gregory and Bill McCutcheon were appointed in 1973 and 1974, respectively. Several PDF and technical appointments were also supported. Irving Ozier was the principal faculty appointment for Laboratory Astrophysics with major equipment and PDF positions.
The Geophysics Department moved "temporarily" (six months, I remember) to the old BC Research Building where it remained for the next thirty years. There I established a detector lab for the development of low-light-level electronic detection and other astronomical instrumentation. Harvey Richer and Greg Fahlman – a UBC Physics graduate – were appointed in 1970 and 1971, respectively, and Anne Gower filled the part-time lectureship vacated by Jean Petrie in 1970. Several excellent PDFs and technical staff were also supported. With the increasing number of Astronomers and Astronomy courses the Department name was officially changed to Geophysics and Astronomy in 1972. In the same year, Canada entered into an equal partnership with France to construct the Canada France Hawaii 3.6-m telescope (CFHT) on Mauna Kea on the Big Island of Hawaii, which set a bench mark of excellence in ground-based observations, many contributed by UBC optical astronomers.
With completion of the NDG there was good reason to dissolve the IASS, but there remained the challenge of consolidating Astronomy within a single group. From the beginning there were irreconcilable differences of approach between Bill Shuter and Michael Ovenden over this issue, which dogged efforts to form either a Department of Astronomy or house the Astronomers within a single Department. Indeed, feelings were sufficiently strong that the first Director of the IASS was neither Bill nor Michael but Don Russell, then Head of Geophysics who handed the position on to Maurice Price after a year, and then it passed to me in 1972. The IASS was formally dissolved in 1978 and Kochu Menon became Head of Geophysics and Astronomy in 1979. With Kochu's talent in Radio Astronomy, and the increasing overlap with optical observations, there was little reason left to distinguish between optical and radio. Aperture synthesis, long-baseline interferometry, and operations at higher and higher frequencies led to angular resolution matching, then exceeding, the best optical images which were increasingly recorded with multiplexed electronic devices two orders of magnitude more sensitive than emulsions. Nonetheless, it still took another two decades before all of the UBC astronomers came together.
In 1996 the Geophysics and Astronomy Department dissolved with the geophysicists merging with Oceanography and Geological Sciences to form the Department of Earth and Ocean Sciences. The real impetus was a move by the Administration to create fewer, larger administrative units by amalgamation. The astronomers became part of what is now the Physics and Astronomy Department with the physical move becoming a reality in 2001, when they finally returned to the Hennings Building which they had left thirty years before.
(The work of Gordon Walker, Professor Emeritus, Physics & Astronomy, is the subject of an article in the Globe and Mail 25 September 2009: Online Article. )

Some additional materials about life-writing:
Birren, James E. & Deutchman, Donna E., Guiding Autobiography Groups for Older Adults – Exploring the Fabric of Life, John Hopkins University Press, 1991.
Miller, Patti. Writing Your Life – A Journal of Discovery, Allen & Unwin, 2001.
Rainer, Tristine. Your Life As Story, Tarcher/Putnam, 1998.
Rennie, Kay H., How to Turn Life Into Literature, Kindle Edition, Version 1.2, 2011.
The Ethics of Life Writing, Edited by Paul John Eakin, Cornell University Press, 2004.
Last updated: October 1st 2017